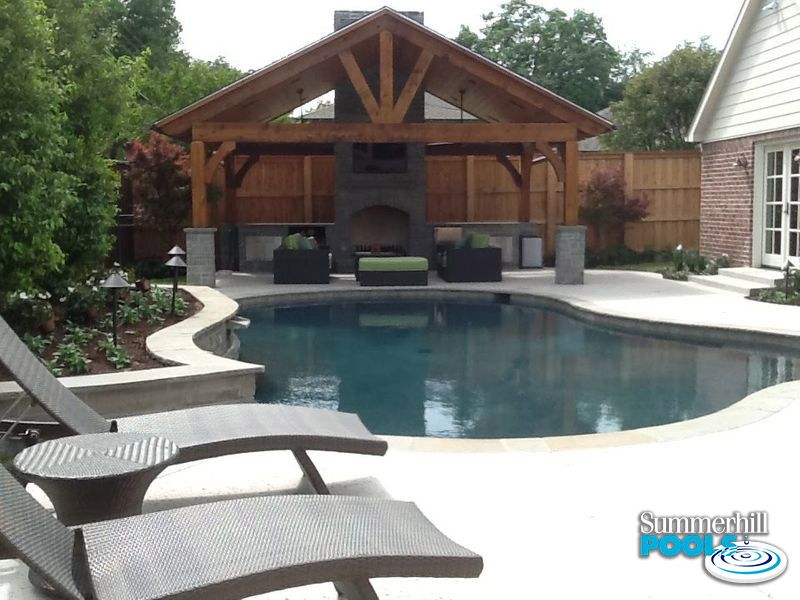 Outdoor Living Frequently Asked Questions
Summerhill Pools understands the importance of having a gorgeous outdoor living area where you, your family, and guests can relax and enjoy the gorgeous outdoors. Our experienced design team can help you create the perfect outdoor living space to seamlessly match your incredible pool and create one unified space that promotes beauty and entertainment.
We get a lot of questions about our outdoor living space services, which is why our team has taken the time to create this FAQ guide. If you have any additional questions or would like to schedule an appointment, get in touch with our design team!
What Types of Outdoor Living Construction Services Does Summerhill Pools Build?
Summerhill Pools is proud to offer the following outdoor living design and constructions services:
Outdoor kitchen design and installation
Outdoor fireplace design and installation
Why Should I Invest in an Outdoor Kitchen?
Outdoor kitchens are a fantastic investment for any home. They create the perfect space to enjoy the outdoors while cooking your favorite meal. This functional space is designed for entertaining guests, whether it is during the middle of the summer having a poolside bbq, or during the fall months catching the big game. You can expect the following benefits from your outdoor kitchen:
Convenience: Outdoor kitchens give you the space to create your favorite meals outside and reduce the need to run back and forth inside. Not only will this protect your energy bills from skyrocketing, but it also helps keep cooking fumes outside and allows your home to remain smelling fresh.
Increase in home value: Your outdoor kitchen will increase the value of your North Texas home as more and more potential buyers these days are looking to have an outdoor kitchen as a must for their next residence. 
Versatility: Working with a professional design company such as Summerhill Pools allows you to connect your outdoor kitchen with the other outdoor elements in your backyard. Whether you want to connect your pool and outdoor kitchen with a swim-up bar or want more control over which appliances you need for your outdoor kitchen, our team is more than happy to work with you to make your dreams come true. 
Perfect entertaining space: Stop worrying about being cramped indoors and take your next event outdoors. With the wide open sky, great food prepared in your outdoor kitchen, wonderful seating area, and easy access to the pool, your guests won't feel boxed in. The best part is, we can help you custom-design your outdoor kitchen to meet whatever goals you have in mind. For example, install an immaculate outdoor bar complete with flat-screen TVs to watch the big game or add a pizza oven to make your family's favorite pizza.
What Are Some Outdoor Kitchen Must Haves?
Outdoor kitchens come in all shapes and sizes, but if you want a truly versatile space that will meet your family's needs, you will want the following essentials:
Outdoor grill: Steaks, hotdogs, the perfect burger… grills offer a world of endless opportunities.
Counterspace: You will want plenty of counter space to help you prepare and make all of your favorite dishes.
Refrigerator: Outdoor refrigerators decrease the need to go back and forth inside of the house and can help keep your ingredients and favorite drinks cold and fresh.
Outdoor sink: Wash your dishes, ingredients, and food prep area with easy access to water to promote a clean and sanitary space.
Outdoor bar: Enjoy your favorite drink while sitting with your loved ones and have a nice conversation, or provide seating that allows guests to be out of the way and take a load off. Underbar shelving is perfect for beverages, glassware, and other cooking utensils you need.
Why Should I Invest in an Outdoor Fireplace or Fire pit?
Outdoor fireplaces or fire pits are a gorgeous addition to any outdoor living room or outdoor dining area. They create a focal point for the space and can help keep you and your family warm during the colder parts of the year. This helps make your outdoor living space more usable throughout the year.
What Are the Benefits of an Outdoor Fireplace or Fire pit?
They create the perfect space to enjoy a nice glass of wine, read, or entertain guests.
They add a nice ambiance and warmth to your outdoor living space.
They increase your property value.
They extend the use of your outdoor living spaces throughout the year.
What Considerations Do I Need to Keep in Mind When Adding an Outdoor Fireplace or Fire Pit to an Outdoor Living Space?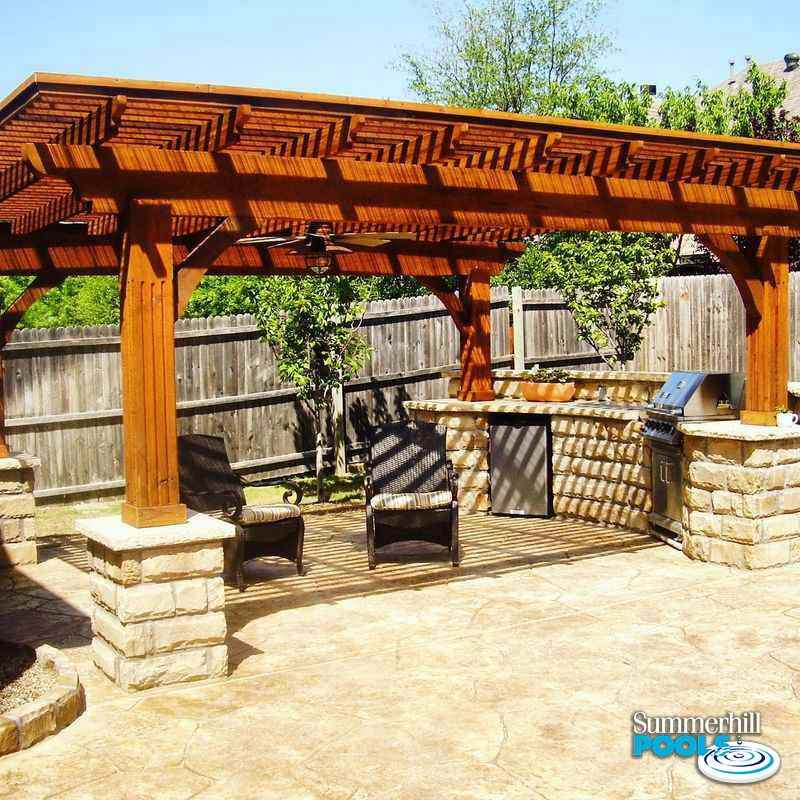 There are several considerations you will want to consider before you decide to invest in an outdoor fireplace or fire pit. They are as follows:
Placement: Where you decide to install your outdoor fireplace/fire pit is extremely important as it sets the focal point of your outdoor living space. It also impacts your ability to use it. The most common places to install your outdoor fireplace are alongside a wall or a corner of your outdoor living area.
The material used to make it: Your outdoor fireplace/fire pit needs to be constructed of high-quality material to not only ensure it looks good, but to boost safety. Materials that Summerhill Pools use to construct their outdoor fireplaces and fire pits include the following:
We will work with you to choose the best material that works alongside the architectural style of your home and outdoor living space.
What type of fuel are you going to use: Fire pits and fireplaces can come in two different types: wood-burning and gas-fueled. Wood burning fireplaces and firepits are the most popular as they create a rustic feel to your backyard and a sense of authenticity. 
Need Help Creating Your Ideal Outdoor Living Space?
Summerhill Pools is proud to offer outdoor living design and construction services to the individuals of Dallas, Texas and surrounding areas. Contact our team today for more information on our services or to schedule an appointment with our design team.