Rectangular & Traditional Pool Builders in Dallas, TX
Rectangular pools offer spacious swimming spaces for families to play in. They also have plenty of room for you to do laps for cardio in. When you decide to get a rectangular pool for your Dallas home, Summerhill Pools is here to design and construct it. Our skilled team of pool professionals can help you design the right rectangular pool for your Dallas home based on the amount of space you have and the way your yard is laid out. Contact us to get started on your pool today!
Rectangular Pool Sizes and Designs for Your Dallas Home
Rectangular pools are available in several sizes. Standard rectangular pool sizes typically range from 12 x 24 to 20 x 40, with a number of sizes in between, such as 14 x 28, 16 x 32 and 18 x 36. While one of these sizes should be right for your backyard, Summerhill Pools also offers custom sizes. Depending on your design preferences, size needs, and yard layout, you might want to choose a long and narrow rectangle pool if you're mainly interested in swimming laps.
Our high-quality custom rectangular pools are made to last for a very long time. We make our pools with shotcrete and 1/2-inch rebar to provide as much durability as possible. This means that you can expect your rectangular pool to stay in good condition for several years.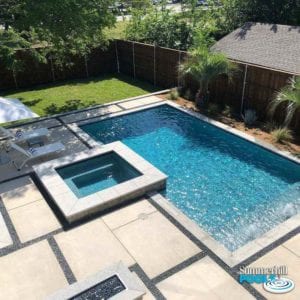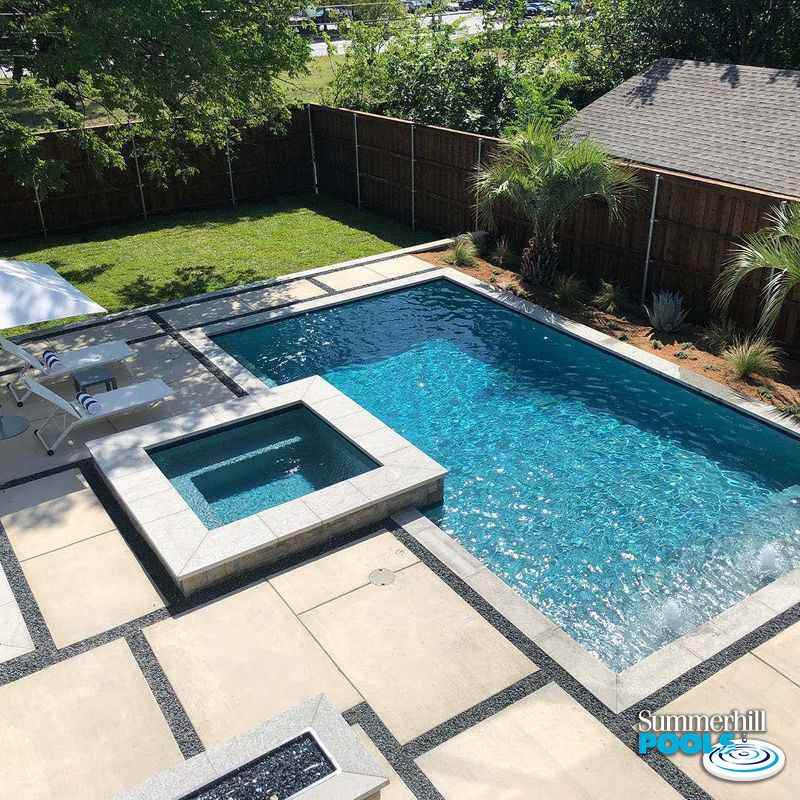 Rectangular swimming pools are a classic choice that can be made to look traditional or adapted to have a more modern appearance. Other rectangle swimming pool ideas include adding lighting for safer swimming at night, colored lighting for a dramatic effect, or water features for a bit of elegance and visual interest. When you meet with our designers, you can go over any ideas you have in mind while also looking through our available options. Our team at Summerhill Pools will help you come up with the ideal rectangular pool design for your home. Contact us to schedule a pool consultation today!
Geometric Pool Designs
Summerhill can add geometric elements to your pool while maintaining the rectangular shape overall. These pools can be designed in all kinds of geometric shapes with sharper angles and well-defined borders for a modern and streamlined look.
Our design team at Summerhill Pools can help you design a geometric pool that enhances your home's appearance while also providing you and your family with a convenient place to escape the heat. If you have any particular ideas in mind for your geometric pool, just let our designers know when you meet with them and they'll come up with a plan that takes your design preferences into consideration.
Best Pool Builder in Dallas for Geometric & Rectangular Pools
When you want a rectangular pool built on your Dallas property, you can count on Summerhill Pools for high-quality service. Our pool building team has years of experience in designing and constructing rectangular and geometric pools for residential properties in and around the Dallas area. If you need more information on our available rectangular and geometric pools, give us a call. Our pool experts are ready to answer your questions and help you design the right pool for your home. With our help, you'll have a durable rectangular or geometric pool that will provide you and your family with years of fun.
---