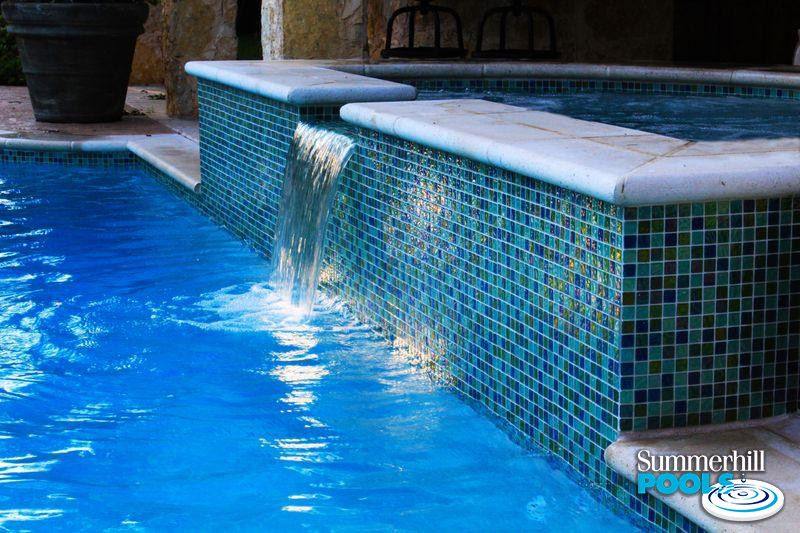 Pool Water Features in Dallas
Adding a water feature to your pool is a great way to add appeal and beauty to your outdoor space. A properly-installed water feature can create a serene oasis, a kid-friendly zone, or a relaxing retreat. Summerhill Pools will combine our expertise with your ideas and imagination in order to design and install the perfect water feature for you. Contact us today to learn more about custom pool water features.
Enhancing Your Pool with Custom Water Features
Adding a custom water feature can transform your swimming pool into the main attraction of your home. Each water feature designed and installed by our Summerhill Pools experts is unique to your landscape and designed with your preferences in mind.
Water features not only enhance your overall pool experience, but they can also help with filtration by keeping the pool water moving.
Factors to Consider when Choosing a Water Feature
There are many water features to consider, and each has a number of different benefits and design options. You may already know what water feature you want to add to your pool, but if not, here are some aspects to consider:
Pool style. Some water features work with all pools, and some pools look good with any water feature. However, the way a pool is designed and constructed may conflict with the addition of certain water features.

Sound. A water feature can appeal to both visual and auditory senses. Sound is a big reason that a homeowner will opt for a water feature since flowing water – such as waterfalls and fountains – creates a calming and relaxing environment.
Flow of water. The direction the water flows in and the way that the water exits the water feature and enters the pool are important considerations. You may want a tranquil fluidity that a calm waterfall can provide or an exciting burst of energy from high-pressure jets.
Another consideration is whether or not you want to add lighting. Accent lighting can enhance your water feature and pool's appearances and allow for customizations depending on your mood. Colored or warm lighting creates nighttime ambiance while natural lighting can mimic the effects of sunlight on the water.
Pool Water Feature Ideas
Rock waterfalls. There are many design options for rock waterfalls, depending on the homeowner's taste. Rock waterfalls are made to look like rock formations and are commonly used for lagoons or tropically-inspired swimming pools. A benefit of waterfalls is that they help cool the pool water's temperature, even during the hot summer months.

Sheer waterfalls. In contrast to rock waterfalls, sheer waterfalls have a more subdued and simple design, perfect for contemporary and modern pools.

Fountains. These water features add elegance and luxury to your pool. Designs range from small openings found at the edge of a pool to more complex and elaborate design features incorporated into the heart of the pool.

Sconces. Simple but elegant, these are mounted to swimming pool raised walls. Sconces are decorative features with small openings that allow for a narrow stream of water flow.

Jets and Bubblers. Resembling a small geyser, these water features shoot water off the pool floor directly into the air.

Deck Jet, Fountain Spitter, and Sheetfalls. These features are all located on the deck. Deck jets and fountain spitters shoot a narrow stream of water into the pool. Sheetfalls have a more contemporary design and flow in an arc into the water.

Scuppers. If you want the soothing sounds of flowing water but also want easy maintenance, scuppers are a great choice. They can be as simple as a small hole that allows water to circulate in a pool or hot tub.
Adding Water Features to an Existing Pool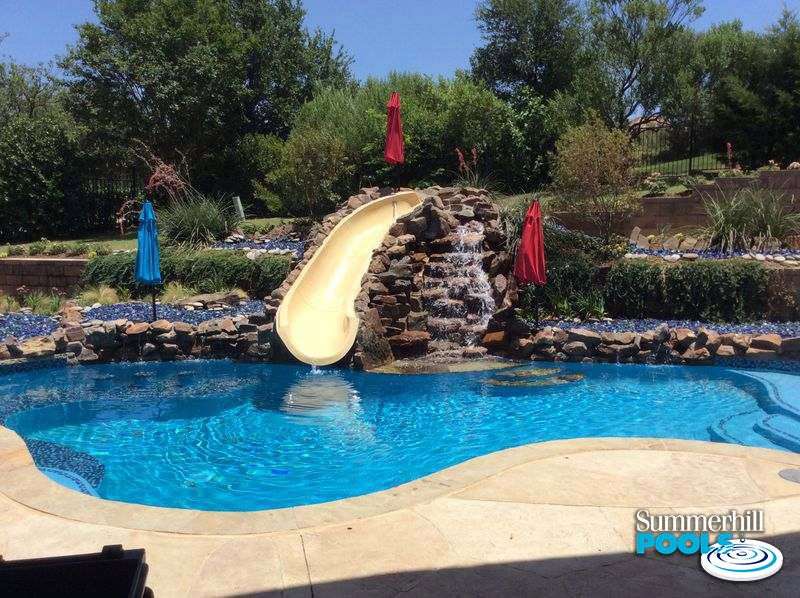 Summerhill Pools can work with you to design a water feature that enhances your existing pool and landscaping. We evaluate your landscaping and pool style and then help you decide which water feature options will best suit your pool design ideas and space.
Summerhill Pools is dedicated to offering exceptional pool building services, including water feature installation in new or existing pools. We will help you with every step of the design and installation process, and ensure that your add-on water feature blends perfectly with existing pool features and landscaping. We look forward to helping you design your custom pool water features that will add beauty and tranquility to your outdoor space. Contact us today to schedule a consultation.
---