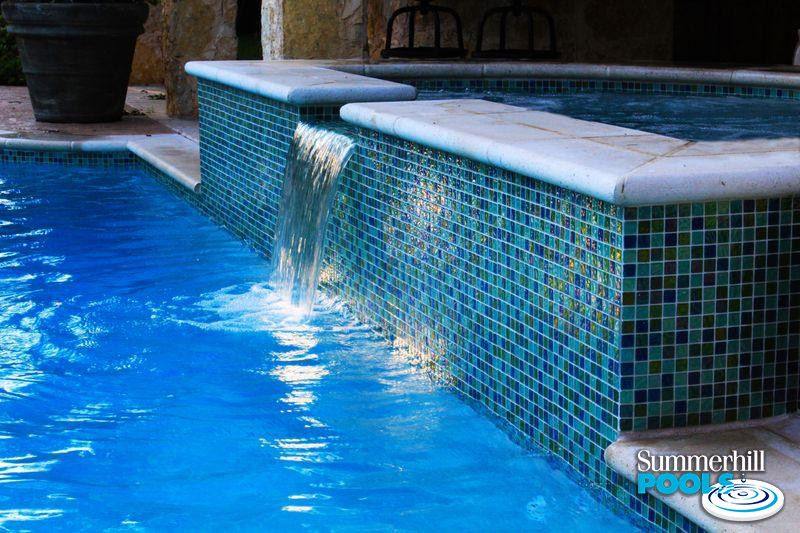 Guide To Water Features for Dallas Pools: Design, Installation & Cost
Whether you are building a new pool or looking to update an older one, a water feature is a great way to add visual complexity and beauty to your outdoor space. A properly-installed water feature can create a serene oasis, a kid-friendly zone, or a relaxing retreat. Summerhill Pools will combine our expertise with your ideas and imagination to design and install the perfect water feature for you.
Enhancing Your Pool With Custom Water Features
A custom water feature transforms your swimming pool into the main attraction of your outdoor living space. Each water feature designed and installed by our Summerhill Pools experts is unique to your landscape and designed with your preferences in mind.
Water features not only enhance your overall pool experience, but they can also help with filtration by keeping the pool water moving.
Factors to Consider When Choosing a Pool Water Feature
There are many water features to consider, and each has several benefits and design options. You may already know what water feature to add to your pool. If not, here are some aspects to consider: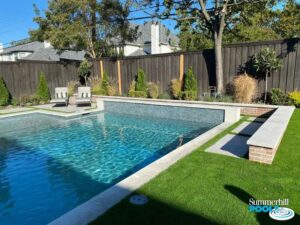 Pool Style
The type and style of pool you are going for will determine which water features will work best for your pool and which ones you should probably avoid. For example, more modern pools will love the sleek look of a sconce but may not work as well with a rock waterfall.
Sound
A water feature can appeal to both visual and auditory senses. Sound is a big reason that homeowners opt for a water feature, as the flowing sound helps create a relaxing and soothing environment. For example, waterfalls can relay a tropical escape to aid in relaxation.
The Flow of Water
The direction the water flows in and the way that the water exits the water feature and enters the pool are all important considerations. You may want the tranquil fluidity that a calm waterfall can provide or an exciting burst of energy from high-pressure jets.
Pool Lighting
Accent lighting can enhance your water feature and the pool's overall appearance while providing a safer space for swimmers. Using lights in correlation with your water feature adds additional customization options to help fit the homeowner's mood. Colored or warm lighting creates a fun nighttime ambiance while natural lighting can mimic the effects of sunlight on the water.
Cost
The cost will vary depending on what type of water feature you are looking to get installed onto your pool and whether or not it is an older or a new pool that the feature is being installed into. For example, outfitting a new pool with a fountain is a lot easier than putting one into an older pool. While the new pool can be outfitted with a pool pump that can handle the added stress of the fountain, an older pool may have to have its entire pump system replaced.
Always talk with your trusted pool builder when deciding to add a water feature to your pool to ensure that your pool's current build can handle it or if there are added changes, such as an addition of a stronger pool pump or redesign that may be needed. If your previous pool builder is still available, it may be worth checking in with them first, as they would have the best understanding of the current capabilities and limitations of your current pool.
Luxurious Pool Water Feature Ideas
If you're looking for luxury pool design ideas, you'll quickly realize there's more than the shape and style of the pool—there are extra features to consider. Pool water features can transform your Dallas swimming pool into your private resort-like oasis.
Rock Waterfalls
There are many design options for rock waterfalls, depending on the homeowner's taste. Rock waterfalls are made to mimic natural rock formations and are commonly used to create a lagoon or tropical-inspired swimming pool. The waterfalls help cool down the pool's temperature throughout the summer, despite the notorious Texas heat. Another added benefit is that some waterfalls can be outfitted with hidden grottos, giving swimmers a nice place to have conversations and avoid the sun.
Sheer Waterfalls
In contrast to rock waterfalls, sheer waterfalls have a more subdued and simple design, perfect for contemporary and modern pools.
Water Slide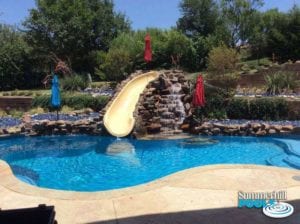 Water slides add a sense of excitement and adventure to any pool build. During the hot summer months, your family and friends will be racing to go down your pool's slide. Whether that slide is a standard water slide for one rider or a more advanced slide that requires a tube.
If you are worried about the aesthetics of your waterslide, our team has the answer. Summerhill Pools has years of experience making water slides look more creative, by adding in additional elements such as stone around the outside to give it an oasis appeal. If you are looking for a more modern look for your pool slide, we can help you pick one that has a sleek design while not sacrificing any of the fun. Contact our team today for more information.
Fountains
These water features add elegance and luxury to your pool. Designs range from small openings found at the edge of a pool to more complex and elaborate design features incorporated into the heart of the pool.
Cascades
Cascades, also known as a sheer descent waterfall, is a gorgeous water feature that transforms the entire look of your pool. They are different from scuppers in the sense that they look like horizontal strips that produce a captivating sheet of water that falls gracefully into your pool.
Cascades are perfect for contemporary pool designs or for homeowners who want to create a relaxing and soothing environment, as the sound and feel put anyone at ease.
Rain Curtain
Looking to create more drama for your pool's design? A rain curtain may be the answer for you! This water feature was designed to look like a falling wall of water and is typically installed on a raised wall or a pergola roof. Rain curtains create a luxurious feel to any pool while helping to create a soothing atmosphere from the gorgeous sound it makes as the water enters the pool.
Sconces
Simple but elegant, these are mounted to a swimming pool's raised walls. Sconces are decorative features with small openings that allow for a narrow stream of water flow.
Bubblers
If your pool has a sun shelf or a shallow end, a bubbler is a worthwhile addition. Individuals who are looking to lay out and catch some sun in their pool lounger can keep the heat at bay with these bubblers. They create a small geyser, helping to spread the cool water while also spiking visual intrigue. They are also a favorite among smaller children, who will love to stomp on the bubblers with their feet.
Bubbler's height and intensity can be adjusted, allowing homeowners the ability to change how they look to fit their mood or desired look.
Deck Jets
Swimming pool deck jets are often known as laminar deck jets. They can be installed directly onto the pool decking, gunite pool walls, or even in the sidewalls of an inground pool. These jets are hidden out of sight and create a nice arch of water to hit the pool. They aid in the pool's water circulation, keeping the water cooler while also adding a fun place for swimmers to get their hair wet while creating a sophisticated design.
Pool Spitters
Pool spitters are statues, such as an elephant that create a beautiful arc of water to create an elegant yet playful feel to your pool. Statues can range from seals to cherubs.
Scuppers
If you want the soothing sounds of flowing water but also want easy maintenance, scuppers are a great choice. They can be as simple as a small hole that circulates water in a pool or spa. Scuppers create a more cylindrical look.
Pool Statuary
A pool statuary is a stationary water feature that shows off a gorgeous statue that ties in with the pool design. For example, an animal such as a dragon can be incorporated into a pool that is going for a more Asian-inspired style or fantastical style pool. Other statue ideas are lions for a Greek/Roman feeling pool or a person. Contemporary-style pool statuaries may be made out of materials such as steel or copper and show off abstract shapes.
Fire and Water Bowls
For a stunning showstopper for your pool, you may want to include a fire and water bowl. This water feature has the dramatic flair of fire combined with a gentler pool of water. These features create a contrast for your pool, helping to draw in the eye and spark the imagination. These features are often installed at the edge of the pool or on top of a pillar, which the latter gives a more Romanesque vibe.
Pool Mosaics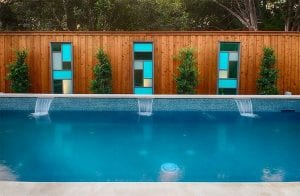 Pool mosaics are special tile features that can be added to a raised wall or the bottom of a pool to add character. From gorgeous mosaic turtles that look like they are gliding over the pool floor to a mosaic of a beachfront, complete with a sunset and palm trees, the possibilities are endless.
Tanning Ledges
Soak up the sun and enjoy quiet conversations without ever having to leave your pool. Tanning ledges are also a perfect area to add in bubblers to help keep you and your guests cool while getting that perfect tan.
Beach Entry
A beach entry pool, also known as a zero-entry pool, is an inground pool that is designed with an entry that has a very slight slope. This allows swimmers to gradually enter the pool instead of using stairs to more quickly get submerged. This is perfect for pool owners who want a more natural look and feel to their pool.
Spill-Over Spas
Whether you use your pool for workouts or you are planning on having a relaxing evening swim with family and friends, a spa is the perfect place to unwind. A spill-over spa provides the perfect place to rest tired muscles or chat with friends while enjoying the beauty of mother nature and the calming atmosphere. Create visual intrigue with the gorgeous sheet of water that lands into your pool, helping to improve pool circulation and tying the look together.
Underwater Bench or Bar Stools With Swim-Up Bar
If you enjoy a cold drink during your swim, a swim-up bar with an underwater bench or stools provides the perfect place to do that. Stay hydrated and take a break from swimming without ever having to get out of the comfort of your pool.
Standing Ledge
Standing ledges are additions to the deep end of a pool to provide inexperienced swimmers with a place to rest, increasing the safety of the pool.
Pool Lighting
Hype up the drama with captivating LED pool lights. These lights define the walls and stairs of your pool, making them easier to see at night, increasing the safety of your pool. Struggling swimmers or potential dangers are more easily highlighted, such as a pet falling into the pool, with pool lights. These features are an essential part of the security and safety of your pool and swimmers.
Retrofitting a Water Feature
Unless the water feature is a stand-alone one, such as a water or fire bowl, most water features look best when incorporated directly into the original design. However, individuals who already have an existing pool and want to retrofit their new water features into their pool will be looking at some major renovations to ensure that their pool can handle the new additions. Water features that will require some renovations to add are as follows:
Waterfalls – Waterfalls add extra weight to the pool's shell, which, if not done properly without renovations, can lead to major cracks and costly repairs.

Water Slides – For water slides to be added in safely, it is important to have the correct depth to ensure that swimmers don't slam into the bottom or sides of the pool.

Fountains – Fountains straddle the line when it comes to whether or not they can be safely added to an existing pool build without the need for renovations. Depending on the fountain, some of them may require a stronger pool pump or filtration system to work properly.
Some water features can be easily added to an existing pool build to help give it a visual pop. These are as follows:
Laminar Jets

Sheetfalls – when installed on a raised wall outside of the pool

Sconces – when installed on a raised wall

Scuppers – when installed on a raised wall
When Is the Best Time to Add a Water Feature to Your Pool Build?
Water features are an excellent choice to spice up the visual aesthetic of your pool. However, while water features can be added to a pool after it has been built, it is much easier and more cost-effective to do it during the installation process.
As mentioned earlier, during the new pool design and planning process, the addition of water features allows your pool builders to choose the right type of pump, piping, and filtration system that is needed to handle your water feature. These water features can also be more easily incorporated into the initial design, reducing the risk of adding too much strain to your pool shell.
When you are adding a water feature to an existing pool, the cost is exponentially higher, as pool builders now have to add more support and replace elements of the original build to make room for the new water feature.
Create Your Dallas Backyard Oasis With Summerhill Pools
Summerhill Pools proudly works with Dallas homeowners, allowing them to build and enjoy their dream oasis. We work alongside you every step of the way, ensuring that all of your wanted design elements and needs are met. When it comes to adding water features, we evaluate your landscaping and pool style to help you decide which water feature options best suit your aesthetic and space.
 Our team is dedicated to offering exceptional pool-building services for both new pools builds and pool renovation projects. We look forward to helping you design and build your dream pool so that you and your family can enjoy the peace and tranquility it brings all year long. Contact us today for more information on our services or to schedule an appointment with our design team.
Pool Water Feature FAQs
Can I Add Water Features to an Already Existing Pool?
Yes, but depending on what water features you are wanting to add, there may be some remodeling involved. Some water features, such as adding in deck jets will not require much changes to your existing pool as they will not affect the pool's plumbing or filtration system.
Larger water features, such as a waterfall, will require a bit more planning and come at a higher cost. Larger water features are not only heavier, thus adding more strain on the pool shell but also require stronger pool pumps and filtration systems to operate properly. Your older pool may not be equipped to handle this newer addition properly, meaning more changes will have to be made to the pool to prepare for the new addition. Always talk to your trusted pool builders at Summerhill Pools for more information and an accurate estimate of what your wanted changes are going to cost you.