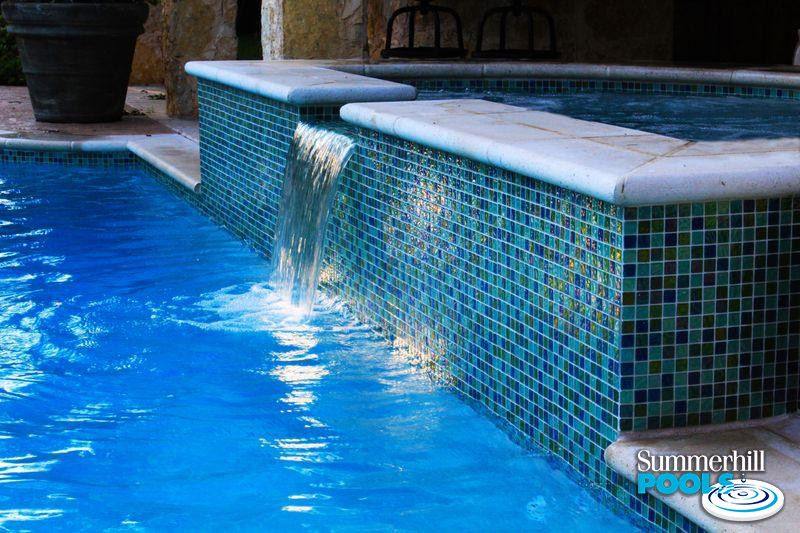 Swimming Pool Frequently Asked Questions
Summerhill Pools is proud to help Dallas homeowners and business owners create their dream outdoor oasis. Since 1989, our team has delivered unsurpassed swimming pool construction and renovation services, helping us gain recognition and respect from both our clients and competitors. As one of the premier Dallas Pool Builders, we get many questions about our swimming pool construction services. Here are answers to these questions to help homeowners make decisions about swimming pools. As always, if you have any additional questions or concerns, we would love to hear from you!
How Do I Know What Type of Pool Would Be Suitable in My Backyard?
Summerhill Pools is dedicated to ensuring that your dream pool matches the aesthetic and flow of your outdoor space. We sit down with homeowners and discuss the specifics of what they want out of their pool. Then, we measure your backyard to determine the best type, size, and shape of pool to meet your needs. Finally, we put together a plan of action for your pool and present it, giving you time to tweak the design until it matches your vision.
Is My Backyard Big Enough for a Swimming Pool?
Swimming pools come in all shapes and sizes, so they can fit in almost any kind of backyard. Whether you are looking for a lap pool to get some healthy exercise or want a free-form pool to add some flair while fitting into the layout of your available space, Summerhill Pools can bring your dream pool to life.
How Long Does It Take to Build a Swimming Pool?
A variety of factors contribute to a pool project timeline. These include things such as weather, the condition of your yard's soil, local building inspections, material availability, workforce availability, and the complexity of your pool build. However, the standard timeline, assuming everything runs smoothly, is about six to eight weeks for a concrete pool.
How Do Soil Conditions Affect the Pool Building Process?
Soil is subject to moisture changes from inclement weather. Pool builders cannot operate in wet soil due to the increased risk of machinery getting stuck and the excavation site caving in.
The type of soil in your area dictates the way it responds to moisture. For example, clay soil holds moisture better than sandy soil, making it less likely to collapse on the excavation site during heavy rains. However, it also takes longer for the moisture to completely dry out, leading to longer delays.
What Is the Process for Building a Swimming Pool?
Concrete pool construction involves multiple phases. These phases are:
Planning and Design
Permitting
Layout and Excavation
Steel Frame Installation
Plumbing Installation
Electric Installation
Application of the Shotcrete
Installation of Tile and Coping
Deck Installation
Plaster/Interior Finish
Start-Up
Will a Pool Increase the Value of My Home?
Real estate experts estimate that an inground concrete swimming pool will raise the value of your home by five to eight percent. This means that if your home is worth the average home value of Dallas, which is currently 400,000, then you can expect a rise in value between 20,000 to 32,000 dollars.
On top of that, your pool will add non-monetary value to your home, including priceless memories with family and friends, a relaxing escape after a long day at work, and a consistent source of exercise and stress relief to promote a healthy body and mind.
What Is Swimming Pool Automation?
Swimming pool automation gives you control over your pool with the push of a button. You can control your pool's circulation system, filter system, and heating system using either a hand-held remote, your phone, or a mounted wall panel. This system allows you to turn the pool on and off without having to go outside.
What Are the Most Popular Pool Shapes?
Concrete pools can be made into any size and shape, depending on the wants and needs of the homeowner. Some of the most popular shapes are as follows:
Geometric Shapes
Figure 8 Pools
Free-form pools
Ready to Build Your Dream Pool?
Summerhill Pools is proud to support the homeowners of Dallas, Texas in building the swimming pool of their dreams. Whether you are looking for a free-form pool that has a built-in waterfall slide or a lap pool with an attached spa to relax after your workout, we have the solutions for you. Contact our team today for more information on our services or to schedule a consultation!