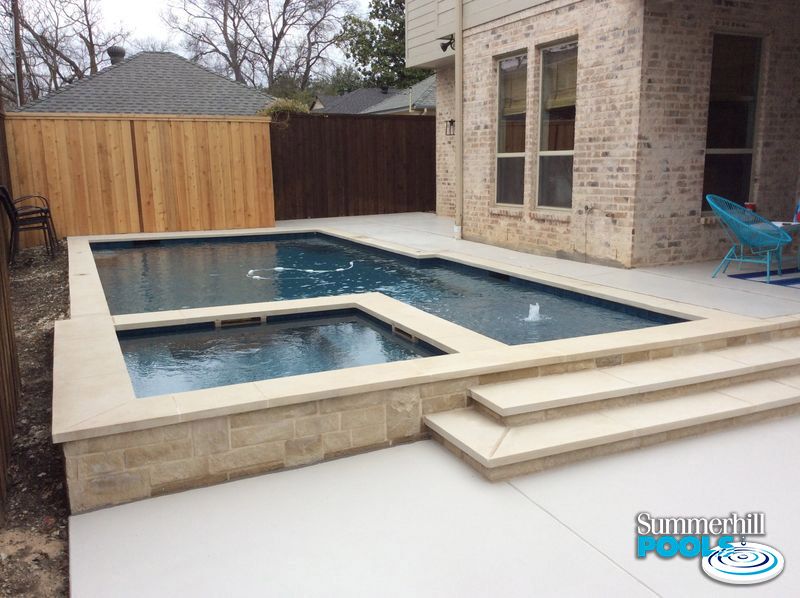 Dallas Area Pool Deck Resurfacing
The deck of your pool can have a negative or positive impact on the overall appearance of your entire pool area. A worn deck or one that is too rough or damaged can cause your pool area to have an unsightly appearance and an uncomfortable surface for walking on. At Summerhill Pools, we offer pool remodeling and pool deck resurfacing in the Dallas area so that you have a deck that improves – instead of detracts from – your pool area's appearance.
Pool decks eventually show their age no matter how durable the material is that they're made from. Exposure to the elements, natural expansion and contraction, and other factors can cause pool decks to become worn or damaged over time. If your pool deck has developed large or small cracks, structural problems such as buckling slabs, a rough surface, or other issues, it's time to look into pool deck replacement or resurfacing. Summerhill Pools offers deck resurfacing for pool owners throughout the Dallas area. When you need to have your pool deck resurfaced, you can rely on our team of experienced professionals to handle it for you.
Replacing Pool Deck Pavers
Pool deck pavers are built to last for many years, but they can eventually become worn out, faded, or damaged over time. When you have pavers that are in rough shape, Summerhill Pools can replace them for you. We can also replace your current pool deck pavers if you're interested in giving your deck an updated look. If you have pavers with an older design or ones that have too many problem areas, it's a good time to consider having our team replace your pavers with all new ones. Our pool experts in Dallas can help you sort through your options when getting your pavers replaced. You'll find that we have a wide range of styles, designs, and colors to consider.
When you have selected your new pool deck pavers, the professionals at Summerhill Pools can remove your current pool deck pavers and install the new ones for you. Once your pavers are put in place, your deck will have a whole new look and provide a safer and more comfortable surface to walk on. Whether you're looking for a simple, traditional paver design for your deck or a more complex design that adds a touch of luxury, you can depend on us to help you out.
Concrete Pool Deck Resurfacing
When you have a concrete pool deck, it's only going to last for a certain number of years. Once your pool deck has reached its limit, you'll need to decide whether you need to have it resurfaced with concrete or pavers. While our team at Summerhill Pools can handle concrete pool deck resurfacing for Dallas homeowners, this option is not recommended. The Texas clay soils in our area undergo a lot of expansion and contraction, which causes concrete surfaces to form cracks. Instead of having your concrete pool deck resurfaced with more concrete, consider going with long-lasting pavers.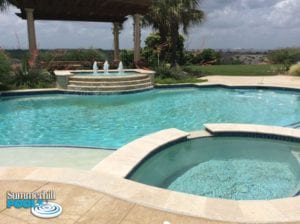 A pool deck covered with pavers offers numerous advantages over a concrete surface. Pavers generally last longer than concrete, and you don't have to worry about them cracking due to expanding and contracting. These surfaces also provide you with a way to enhance the look of your pool deck. Instead of having a plain concrete surface, you can have a pool deck that features an eye-catching design or color scheme. Pavers are available in a wide selection of tones, styles, and patterns so that you can get the exact look you want for your pool deck. When you need to decide what's best for your concrete pool deck's aging or outdated surface, let the experts at Summerhill Pools help you.
If you're looking for additional information on pool deck resurfacing in Dallas, contact Summerhill Pools. Our pool professionals have extensive experience with resurfacing pool decks, and we can help you determine the design that will best suit your style and needs.
---