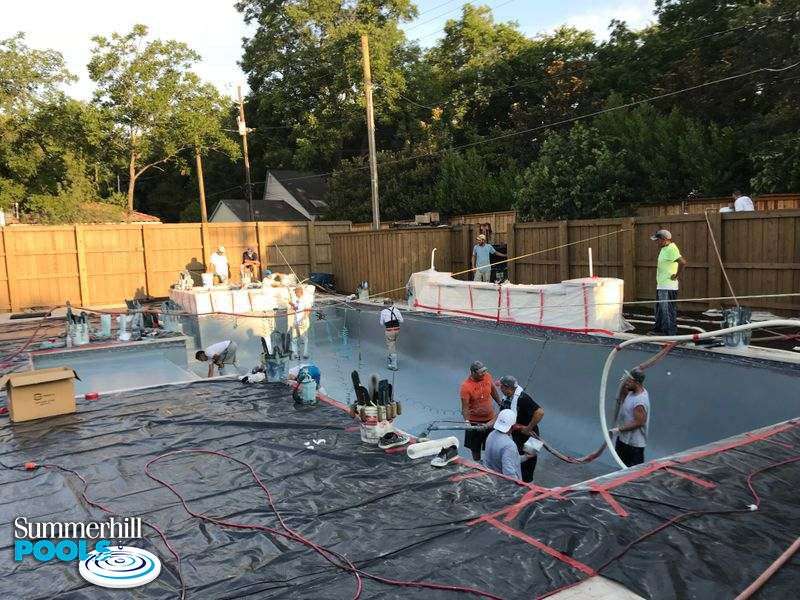 Wear and Tear of Pool Surfaces
Plaster swimming pool surfaces should last for several years. Over the years, though, these surfaces can begin to show signs of wear and tear. When this happens, you can't do much to repair the problem areas – it's time to get your pool resurfaced.
Summerhill Pools offers pool renovations, including pool resurfacing services for homeowners throughout Dallas who have plaster that's in poor condition. Our pool professionals can put their skills to use and expertly resurface your swimming pool in order to improve its appearance and ensure a pleasant swimming experience.
Dallas Swimming Pool Resurfacing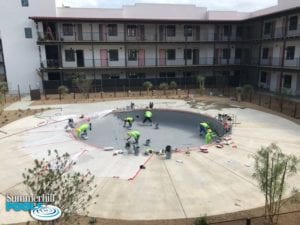 You don't have to put up with a pool surface that has an unsightly appearance or an uncomfortable texture due to problem areas. Instead, you can look into Dallas swimming pool resurfacing to give your pool's surface an updated appearance.
Our pool experts in the Dallas area can take care of resurfacing or replastering your pool so that it looks great and feels comfortable for swimming. Whether you want to give your pool a classic look or go with a more stylish type of plaster, we can help. You can count on the pool professionals at Summerhill Pools to get your pool resurfaced with high-quality plaster so that you can continue to enjoy using your pool for many years to come.
When to Get Your Pool Replastered
The plaster surfaces of pools generally last for around 10 years. If your pool is nearing that age, it might be time to start looking into pool resurfacing. Of course, if your pool's surface is starting to show signs of wear and tear, this is also an indication that you need to have your pool replastered. Our experts at Summerhill Pools can handle this project for you.
Signs that your pool is in need of replastering include:
Peeling plaster

Rough texture

Stains on the pool's surface

Cloudy residue close to your pool's edges

Unexpected changes in your pool water level

Thin cracks or bigger structural cracks
Types of Pool Plaster We Offer
When you get your pool replastered, you don't have to go with the same plaster you currently have. Our team at Summerhill Pools can go over all of your options with you and help you choose the right plaster for your needs. The type you choose will depend on certain factors, such as the kind of appearance you want your pool to have. Some kinds of plaster offer a simple and subtle look, while others give your pool a more luxurious appearance.
Our pool plaster options include regular white, pebble finish, and quartz. Regular white plaster is the traditional choice for those who want their pool to have a classic look. If you prefer to upgrade your pool plaster to a more elaborate style, you can choose a pebble finish from Pebble Tec or quartz from Marquis Magic.
A pebble finish provides pools with a more natural look, as well as a high degree of durability, and you can get this finish in a wide range of colors. Quartz finishes from Marquis Magic give pools a shimmering, elegant look. These finishes, which include quartz aggregates and crystals, are also available in different colors.
If your plaster pool is showing signs that it needs resurfacing, contact Summerhill Pools in Dallas. Our team of pool professionals can provide resurfacing services to give your pool a fresh, updated look and ensure that you have a safe swimming environment.
---