Upgrade Your Dallas Swimming Pool with New Features
Pool features can greatly enhance the appearance of your swimming pool and provide you with added convenience and comfort. At Summerhill Pools in the Dallas area, we offer a wide selection of pool features for you to choose from, including water features, automation, and much more. Our team of pool professionals can go over our pool feature options with you in detail so that you can get the features you want for your swimming pool. Whether you're looking to give your pool a more visually stunning appearance or you want to add a few features to make using your pool easier to operate, we've got you covered.
When you have a swimming pool with no special features or with older features that are outdated or out of style, your may consider pool remodeling or renovations. The experts at Summerhill Pools are here to help you make those upgrades. We provide an impressive selection of new features to consider adding to your swimming pool to give it a fresh look, a more eye-catching design, or a more comfortable and convenient swimming experience. No matter what kinds of features you're interested in adding to your swimming pool, we can help.
Pool Water Features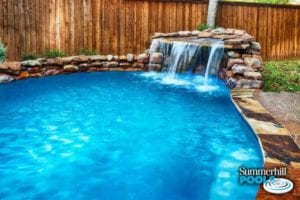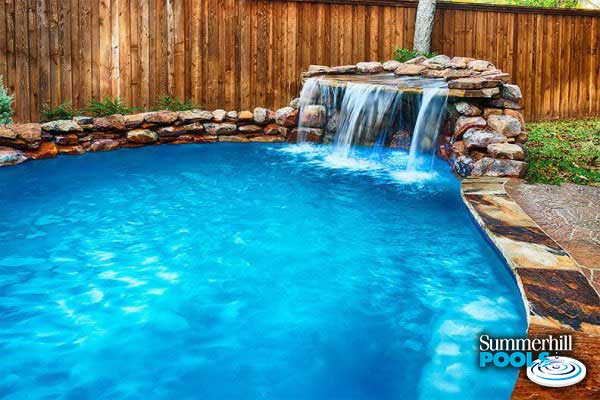 A plain swimming pool offers you a place to swim, but its appearance doesn't really have much of an impact. Adding a water feature or two to your swimming pool can make it more visually appealing and more fun to swim in. At Summerhill Pools, we offer pool water features that will make for a more exciting swimming experience for Dallas homeowners and their guests. Whether you want a couple of small and simple water features or a large, elaborate one, our pool professionals can help you out.
Some pool water features that you might want to consider adding to your swimming pool include a cascading waterfall, water arches, or water curtains. You can also have a rain wall installed in your swimming pool to create a beautiful visual effect. The water features that would work best in your pool depend on certain factors, such as the layout of your pool and its size. You'll also need to consider what kind of effect you're interested in creating. Our experts can guide you through the selection process and then get to work on installing your water features.
Swimming Pool Automation
Swimming pool automation can provide you with an impressive amount of convenience while also giving you peace of mind when it comes to caring for your pool. Automated systems make it easier to perform pool maintenance tasks such as checking and balancing chlorine, alkalinity, and pH levels. You can also control certain pool features remotely, such as your hot tub's temperature or your pool lighting.
At Summerhill Pools, we provide swimming pool automation for pool owners in the Dallas area. Our experts can help you choose an automation system that works best for you, depending on your needs. Whether you want to be able to turn lights on and off with ease or check on your pool's health when you're away from home, we can help.
Other Inground Pool Additions We Offer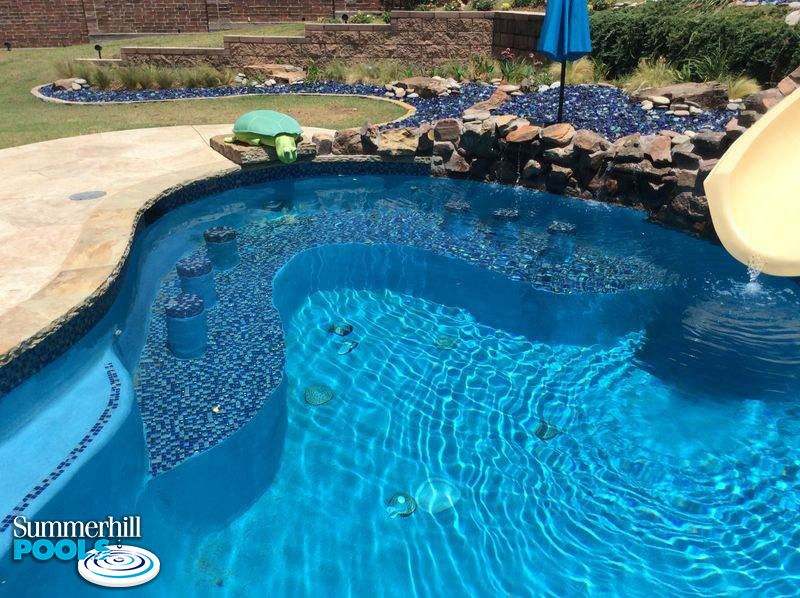 At Summerhill Pools, we want each pool owner we work with to have a swimming pool that meets their needs. In addition to water features and swimming pool automation, we offer the following options:
Adding a tanning ledge to let you soak up some sun without having to leave your pool.

Removing an existing spa and turning it into a tanning ledge, which is ideal if you don't use your spa much.

Adding a bench to provide you with a comfortable place to sit.

Adding bar stools so that you and your guests have convenient seating right in your swimming pool.

Adding a standing ledge in the deep end of your pool, which provides added safety for young swimmers.

Adding colored LED lights to create a dramatic lighting effect in your swimming pool, in addition to providing more illumination for safety purposes.

Adding an umbrella sleeve so that you can block out the sun's harsh rays when you're in your pool.

Adding a pool cleaner plumbing line and unit to make it easier and more convenient to keep your swimming pool as clean as possible.
If you're interested in adding features to your pool, get in touch with the professionals at Summerhill Pools today. We offer a wide range of pool features that can enhance your swimming pool's appearance and improve its functionality. Contact us to learn more about our available options and get started on your pool renovation project.
---