Excavating The Earth – The Collins Job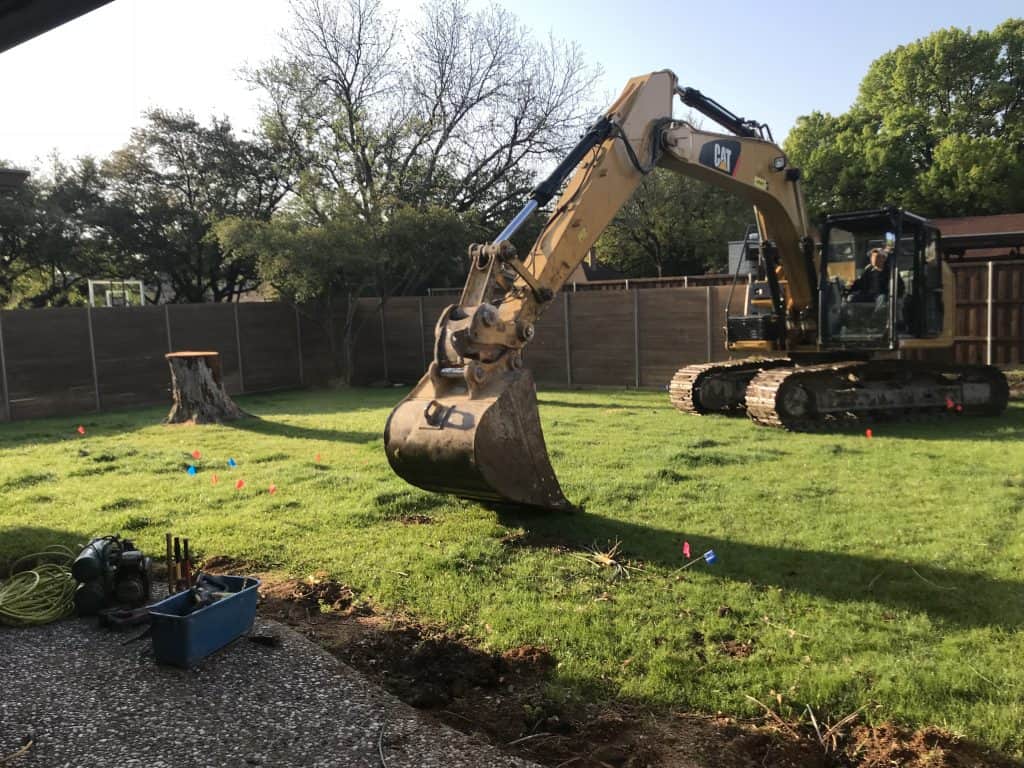 First Things First
Ah, what more could a pool builder want than mounds and mounds of dirt to play with? Nothing! In fact, the excavation is the very first step in every new construction project. It's also one of the most important stages.
It makes sense, really. Remove the dirt in the shape of your pool and fill it in with the good stuff. Sounds simple, right? Well, it's a bit more complex than that. Let's dive in together to see all the ways that Pool Excavation is important for you and your backyard!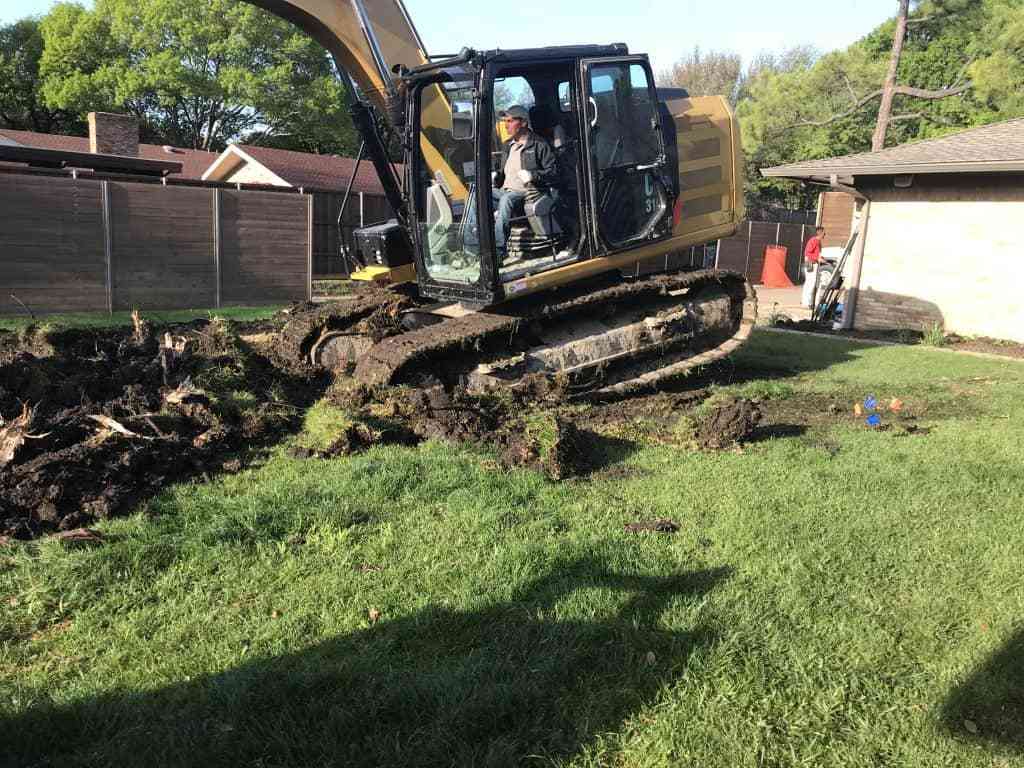 Sticking To The Plan
With any new pool construction, it's important to stick to a plan. We spend hours and hours drafting up 3D Renderings, providing our customers with layout options and designing new & creative ideas. Minds are racked, designs are drawn up and your given a plan for a distinctive pool that you're bound to be proud of!
It's an exciting time for any soon-to-be pool owner. So what's next? Before we fill your gorgeous Summerhill Pool with water we've got to build it. To accomplish this task, we stick to a very strict set of guidelines, known as construction plans.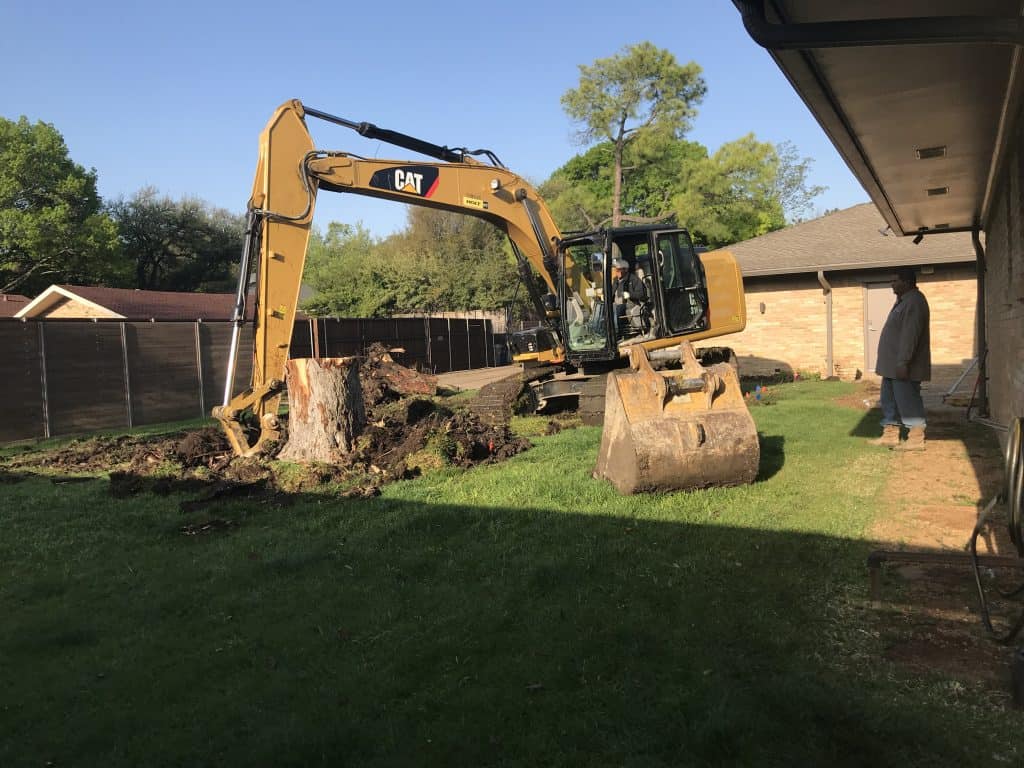 Creating Our Lines In The Sand
From the moment that we break ground, our superintendent is on site. We work collaboratively with our excavation teams to ensure that we stick diligently to our exact designs. In order to ensure we complete this project without a hick-up, we oversize our excavation rig. We'd rather have larger tools for the job so that there are no surprises along the way!
If we had tried to save on cost and rent a smaller machine, we would have been in trouble on the Collins job! As you can see from the images above and below, we came across a foe of the pool industry. Tree stumps! Yikes! These ugly remains of chopped down trees can become the bane of our existence if not handled properly.
Tree roots run deep, crisscross in all directions and can cut into our plumbing and electrical lines. The best course of action on any remaining tree stump is to remove the entity all together. With our CAT 336 F L Straight Boom Excavator, this was child's play!
CAT: Products Made For The Job
We love working with vendors that supply with us heavy duty equipment. After all, it's one of our favorite parts of the job. Getting in the big rig, working hard and focusing on the details. It's what separates us from most other swimming pool builders. At Summerhill Pools, we are present during every stage of your construction project. We don't skip steps and trust our sub-contractors to get the job done for us. It's not our way of doing business and it never will be.
That being said, we invest our resources and budgets in renting equipment that gets the job done right, the first time! You can find evidence of this behavior in our other industry articles, listed below:
We take our business of building long lasting swimming pools very seriously. The same can be said for the CAT 336 F L Straight Boom. This bad piece of equipment is capable of delivering 313 HP of Engine Capacity. Pair that with it's maximum load of 89,900 lbs, swing torque of over 80,000 ft-lbf & maximum reach of 38 ft. This impressive machine was made to work!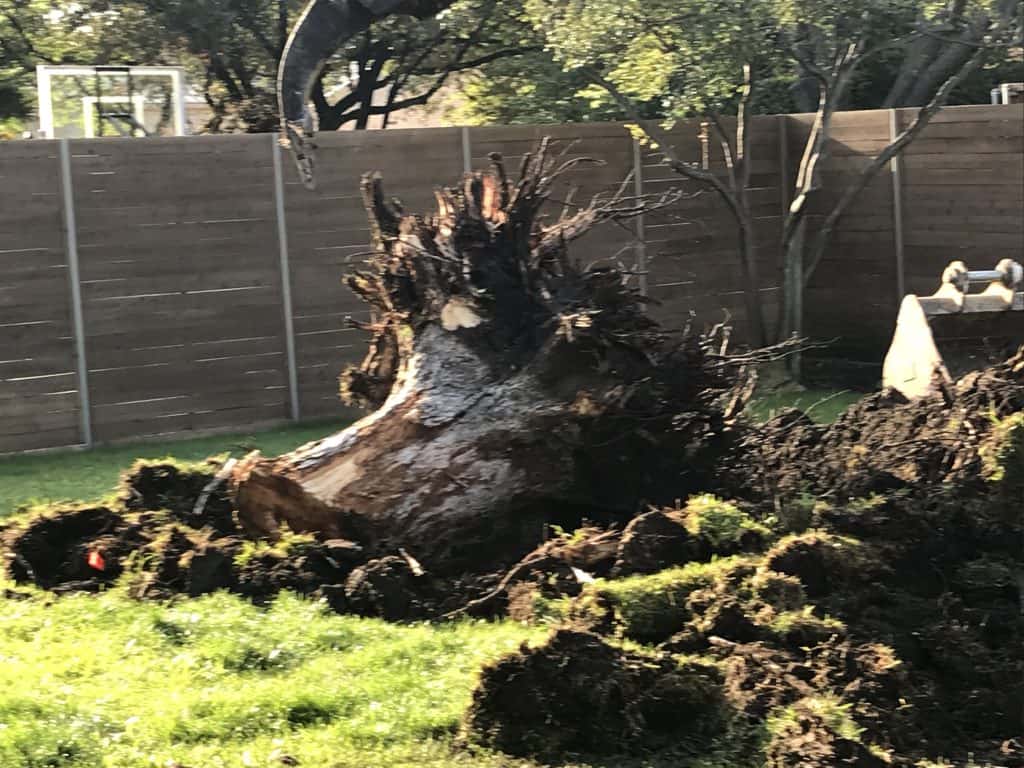 Summerhill Pools Digs Them Right!
Once our excavation is complete, we have a "upward" building process. From running plumbing, tying steel, shooting gunite, spreading plaster & fill up – we are working from our empty hole upwards!
It's a fun process that takes a lot of skill & knowledge to complete correctly. We'd like to take a moment to remind our readers that purchasing a Gunite Swimming Pool is considered a permanent structure in their backyard. Not only do these structures consist of rugged materials – but they are also very costly to repair or replace. That's why we believe wholeheartedly in inviting our customers to do their research!
We like to think of ourselves as an open book for our customers to get to know, trust and love. It's our way of doing business. We have nothing to hide in our business procedures. Our work is our history in the making. We strive for satisfied customers who are happy with our finished products. It's how we separate ourselves from the competition and make the real difference for our customers!
Read Our Other Insightful Articles