Imagine this: you've just received a big bonus or finally saved that last bit of money, and you have the perfect idea of what to do with it. You've drawn up the plans for a new pool in your mind. The family is eager to jump in. You might even invite your entire extended family and other family friends.
There is a lot of excitement involved when purchasing and building a swimming pool. Your spouse provides input and the kids are excited about the colored lights and water features. It's an exciting time for you and your family, and it's easy to continue dreaming about the finished product and not be aware of potential problems along the way. It's even easier to rush into the process in your eagerness to make that dream a reality, making it that much more likely that you didn't give yourself enough time to select the right pool builder for you.
Unfortunately, selecting the wrong pool builder can backfire in many, many ways. Pool construction is big business, and unfortunately, there are plenty of scammers out there. Just recently, a Burleson woman was at the wrong end of one of these scammers' schemes. She was recently diagnosed with multiple sclerosis and wanted to purchase a pool as a place to exercise. Sadly, once she selected her pool builder and put money down, the troubles began, and it cost her thousands of dollars. 
With an investment as big and long-lasting as a pool, it's important to make sure you find a pool builder you can trust to get it right the first time. Rushing the process to find the right pool builder for you can cost you big in both time and money later on, and there's a very good chance you still won't even end up with the pool you want. Our team here at Summerhill Pools wants to make sure you find a pool builder you can trust for your new build, so we've put together this guide about how to find the right pool builder for you.
Step 1: Do Your Research
One of the best ways to research potential pool builders is to search local pool contractor websites. You can tell a lot of information about a pool builder from their website, including the caliber of their work based off of photos, information about the company, what styles and designs they favor, and what services they offer. Be sure to pay special attention to the background, and any listed training, certifications, and awards. Once you find a couple pool builders you like, contact them for an appointment.
If you really want to be sure that you're hiring the right company, you need to find a company with the correct licenses and certifications, great reviews, and an excellent rating from the Better Business Bureau. Summerhill Pool has an A+ rating from the BBB, and you can view our reviews and certifications on our main site. We also lay out our customer service process so you can see firsthand the care and attention that we provide you throughout your experience with us. We're proud of our Summerhill name; it's a brand that we've developed over several decades and we work hard to protect our reputation.
Want some inspiration or examples of Summerhill's work? We have published several pages of completed work, showcasing our gorgeous completed projects in order to provide you with ideas and inspiration. Remember that with Summerhill Pools, you're not just getting a pool – you're buying a lifetime of value!
Step 2: Verify Credentials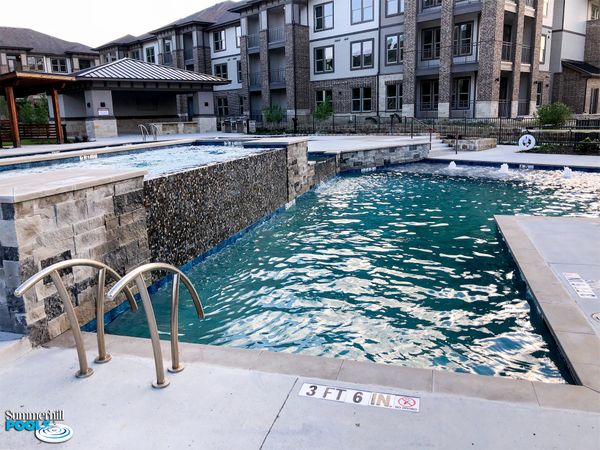 Make sure you are able to check and verify the pool builder's credentials and they match what they have listed on their website. This will help weed out sketchy pop-up companies that may make many claims that they can't back up. In particular, you should ask for a phone number, address, and how long they've been in business. It is also a good idea to find out who handles the construction.
Step 3: Assess Customer Satisfaction
Don't be shy about asking for references! One of the best ways to assess how a company will treat you is hearing how they treated their past customers. If a company refuses to give you references, this is a huge red flag that they may be hiding something. Any reputable company should have satisfied customers willing to share their experiences.
Be sure to also check for reviews online. While references are great, they are also provided by the company so they'll almost certainly be sure to only pick the very complimentary ones. Reviews from other customers is one of the best ways to learn about other customers' experience wents, concerns they may have had, and issues that went unresolved.
Alternatively, it can be a great way to find the highlights of the company, such as good communication and customer service. While no company can completely escape negative reviews, there should be some evidence that the company attempted or did make amends for any issues that are mentioned in the reviews.
Step 4: Get Promises or Claims in Writing
If you are talking to a salesperson representing a pool builder and they promise a claim or warranty for the pool, make sure you get it in writing. While ideally, you could trust people at their word, it is always best to have a guarantee and evidence whenever possible. The pool builder should be able to back the claims that are made to you by their sales representative. If they are reluctant to honor the offers made by the salesperson, the pool builder is likely not one you can trust to honor their word when it comes to building your pool, either.
Step 5: Compare the Information From Each Pool Builder
A pool is a big job and a worthwhile investment, so you want to make sure that you are picking the pool builder that best fits your needs.The right pool contractor will be honest with you, explain all parts of the process, and ensure that you are comfortable before offering to move forward with the project.
If a pool company is pushing you to make a decision, this is also a red flag. It indicates they are too eager to take your money without a clear idea of the project they want to deliver for you. A trustworthy pool builder will ensure they can give you the pool of your dreams and give you the space to consider all your options to make sure that you end up with a pool you will cherish for years to come.
Warning Signs to Keep in Mind
While following the steps above can help you make a good decision, it is important to be aware of other possible red flags:
The Pool Builder Wants a Huge Down Payment: Pool builders should never ask for more than 20% of the pool build up-front. The standard down payment is 10% of the final payment.
The Pool Builder Wants You to Sign the Contract When You First Meet: No pool builder should be asking you to sign a contract on the first meeting. They should give you plenty of time and information to properly consider such a big investment.
The Pool Builder or Their Staff is Exhibiting Poor Behavior: This is always a red flag and it means that the pool builder isn't taking much pride in how they treat others or how they handle their work. Examples of poor behavior might include always missing or rescheduling appointments, constantly missing calls, and rude behavior on the phone or when meeting in person. A reputable pool builder should care about maintaining a professional reputation and make sure they and their employees act accordingly.
The Pool Builder Has Unresolved Complaints: This demonstrates a lack of pride in their work as well as a disregard for customer satisfaction. While some situations are unavoidable, a reputable pool builder should always make some attempt to resolve any customer complaints and help their clients end up with a pool they love.
DFW's Trusted Pool Builders Since 1989
At Summerhill Pools, we believe our pools speak for themselves. Through a simple perusal of our website, you can see how much thought we put into every build and how much pride we take in building beautiful pools that our customers can enjoy since our founding in 1989. While our pools speak for themselves, we also have customer reviews, background information, awards, and much more to reassure you that you can trust us with your ideal pool build. We'll use our extensive experience to work with you and build you the pool of your dreams. To schedule an appointment or consultation, contact us today!
For More Information and Inspiration, Visit These Pages: