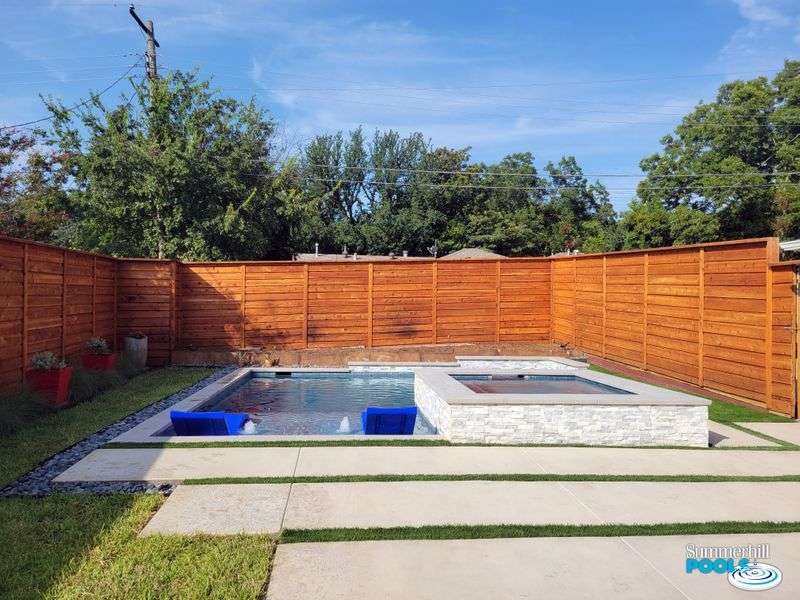 Summerhill Pools
Phone Number: (214) 341-6046
Hours of Operation: Monday to Friday, 8 a.m. to 5 p.m.
Premier Pool Building Services for University Park, Texas
Established by Mark McCaffrey in 1989, Summerhill Pools designs and installs gorgeous residential and commercial pools. Our custom pools are designed to fit the individual needs of our clients. Whether that means creating a lap pool for a commercial gym or creating a breathtaking oasis in a residential backyard, we can turn any idea into a masterpiece.
Before we break ground on your pool, we utilize Pool Studio software to create a realistic 3D model of your pool. Our team also has the ability to create mesmerizing water features to make your pool stand out.
Along with pools, we also design and construct outdoor living spaces to help you get the most out of your property, whether you want an outdoor kitchen or an outdoor fireplace or fire pit.
Summerhill Pools is licensed and has demonstrated a track record of distinction. We proudly carry an A+ rating from the Better Business Bureau. When you come to us for pool design and construction or something else, rest easy knowing it is in the hands of experts.
Swimming Pool Contractor Services Offered to University Park, Texas
Pool Design
At the start of our pool design process, you'll meet with our team of experts. We'll discuss your dream pool and take into account the big picture, factoring in elements such as the square footage of your yard, your property's layout, and your budget. We'll also survey your property to understand it better.
After we have discussed your pool, one of our designers uses Pool Studio software to create a digital 3D model of your dream pool. This 3D model provides an excellent understanding of how your pool will fit into the overall appearance of your backyard before we begin construction. The 3D design takes around three to five days to complete. Once the 3D model is finished, we have a second meeting to show you the design.
Once we have finalized your pool design, we review the budget as well as permit applications with you. During the third meeting, you select the finishes for your pool. At this meeting, the client signs the contract for the pool. We are happy to answer any questions you may have at all stages of pool design.
Commercial Pool Construction Design, Construction, Remodeling, and Repair
If you're a hotel or apartment builder looking for a pool contractor in the University Park, Texas area, the team at Summerhill Pools can help you. We have a thorough understanding of the requirements of commercial pools, such as the laws, ordinances, and building codes. In fact, we handle any permit requirements.
From a conventional lap pool to a creative freeform pool, we can create a commercial pool that your guests or residents will love.
We also provide commercial pool maintenance services. Pool maintenance is critical to having a safe and enjoyable pool, and commercial pools are no exception.
When you reach out to us, our experts can provide an accurate estimate for your pool.
Concrete Pool Construction, Remodeling, and Renovations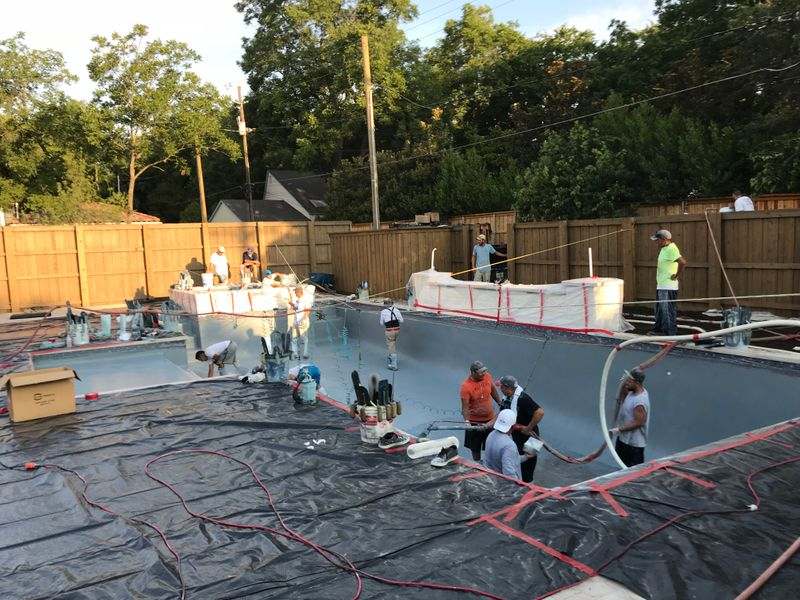 There are many materials available for pool construction. Pools constructed out of gunite or shotcrete (varieties of concrete) are attractive and long-lasting.
At Summerhill Pools, we use shotcrete to create concrete pools because of the following benefits:
Shotcrete is roughly eight times stronger than gunite.
Shotcrete is less likely to get stress fractures from ground movement than gunite.
Shotcrete is more resistant to shrinking or cracking than other types of pool shell materials.
Not only are shotcrete pools durable, but they can be designed in a variety of ways. You won't have to give up durability for design flexibility.
Local Resources for University Park, Texas

We look forward to creating a memorable pool you will love. Call or email us for a free estimate!