Quick Links:
There are 10.4 million pools in the United States, many in North Texas, due to our long and hot summers. For every pool, someone had to make the difficult decision between pool concrete or pavers. If you're facing the same tough choice, you're not alone – but you're also not without help. We're here to assist!
In today's post, let's take a look at the differences between concrete and pavers, as well as the costs and benefits of each, so you can make the best possible decision for your home today.
Concrete Pool Decks
Concrete pool decks are made up of large slabs. Any time you've been at a neighborhood pool or in someone's backyard and felt that rough surface on your feet, poured into giant slabs, that's concrete. Initially wet when mixed, concrete gets poured during installation, then needs to be cured before you can fill the pool with water and use it.
Although we think of this material as kind of a bore, it doesn't have to be. Concrete can be poured into all kinds of different shapes, textures, and patterns to give your pool a unique look and feel. Freeform pools, for example, are becoming more common, as people look to distinguish their backyard pools from the standard square. Concrete also comes in different shades, including the common gray, as well as:
Different colors allow homeowners to better choose which fit their aesthetic needs and existing landscaping and pool tiles.
Advantages of Concrete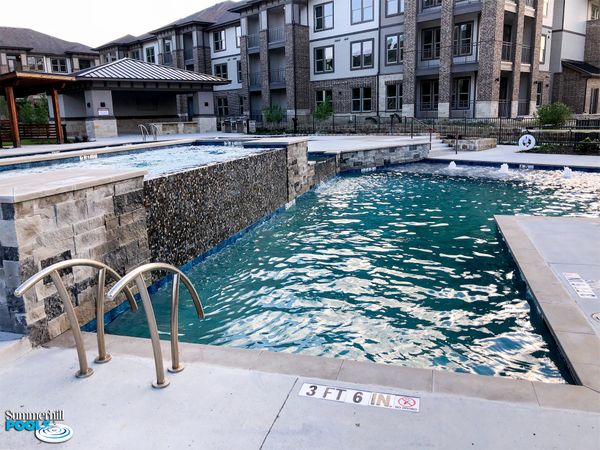 The first and most obvious advantage of concrete is its relative cheapness compared to other pool deck options. It doesn't need to be quarried, which makes it much more affordable. That's not to say it is of poor quality; concrete is quite sturdy and will hold up well over time.
Concrete is also a very flexible option, allowing for dyeing or staining to many different colors. You don't even need to use the same colors in the same pool deck. Want to make a multicolored design? Concrete allows you to do that.
Perhaps most appealingly to homeowners looking to get the job done quick, concrete installation is a fairly painless process. Unlike pavers, the slabs can all be poured at the same time and do not require laying each piece individually.
Things to Consider With Concrete
It's best to be aware of what you're signing up for upfront, so know that concrete needs ongoing maintenance. If it isn't periodically resealed, it will begin to crack and erode, causing roughness. The color can also fade over time, so you may need to be refinished to give it back that polished look.
While properly cared-for concrete in dry areas can last up to 50 years, that number drops significantly with constant exposure to water. Given that water would destroy most materials entirely, however, it's still impressive that concrete decking can last up to 10 years in wet conditions.
Pool Deck Pavers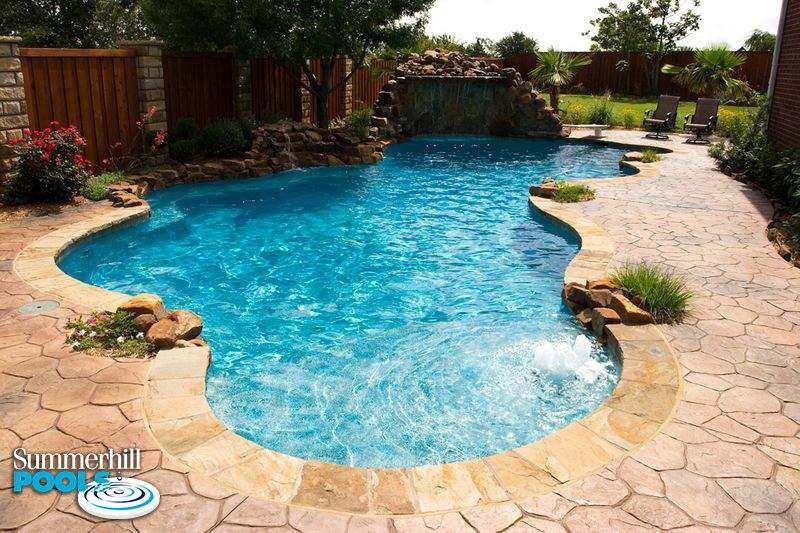 Pavers have a natural beauty that concrete can't really compete with. They come in many different shapes and sizes. You might opt for an irregular pattern, depending on your taste. Pavers also look great in geometric shapes or even rows … it's all up to you.
Available in a wide variety of textures and colors, paver options include:
Flagstone: A naturally occurring sedimentary rock that comes in flat shapes, in a range of grays and browns.
Travertine: Another naturally occurring stone, this one warm-colored with brownish hues.
Concrete: That's right, concrete can be poured into pavers of a wide variety of colors and molded to any shape, offering peerless flexibility of design.
Paver Advantages
Pavers increase the value of your pool, and therefore your home. They're a high-quality material that other buyers love to see, and they have an eye-catching beauty with which large slabs can't compete.
They're also easy to repair. We lay them down one at a time, which means if a paver cracks, you only have to call for one small adjustment rather than have a new slab poured. Because of this, pavers last anywhere between 50 and 100 years at a minimum, significantly longer than concrete.
Pool Paver Considerations
Perhaps the biggest consideration with pavers is the cost. They lose to concrete decking in price every time, due to the considerable increase in materials and labor cost. Each one needs to be laid individually, after all, which takes a long time.
Pavers also get worn down by imbalances in your pool water. Certain types of natural stone just can't withstand irregular chemical and pH concentrations, so it's very important if you choose pavers to maintain your pool water carefully. With correct care, though, this shouldn't present a long-term concern.
No Matter What You Choose, Summerhill Pools Can Help!
Ready to get your pool shipshape for summer? Call us here at Summerhill Pools for a quote. Our friendly team will get back to you ASAP, so you can greet the warm weather in style.