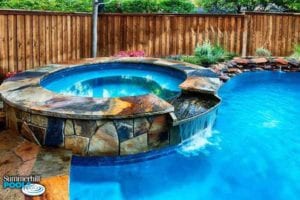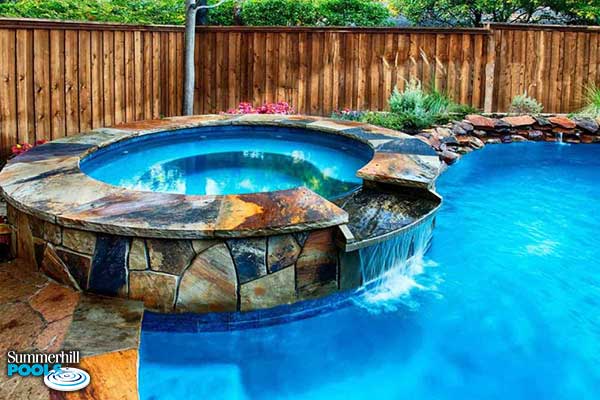 Thinking about giving your backyard a major overhaul? If so, then one of the potential improvements you may want to consider is adding a swimming pool. While installing a swimming pool does require an up-front investment on your part, many DFW homeowners find that the benefits of owning a swimming pool far outweigh the initial cost.
Take some time to explore the benefits of owning a swimming pool for yourself. From there, you can more confidently decide whether this may be a practical addition to your own backyard!
Improvements to Your Health
For starters, there are numerous health benefits that come along with having your own swimming pool. Swimming is a very low-impact cardiovascular activity, which means you can burn a lot of calories and get an excellent workout in without causing excessive strain on your joints. Regular swimming is great for individuals who are recovering from injuries due to regular exercise because water supports your body weight and makes you feel inherently lighter.
Swimming can also improve your cardiovascular health because swimming gets your heart pumping. With minimal strain on the body, swimming allows you to build your cardiovascular endurance without the potential downsides of swelling feet, muscle strain, and sore muscles.
Finally, swimming can even improve your mental health. Regular swimming, even for just half an hour a day, can help to minimize the effects of depression and anxiety. The added physical activity can also help improve sleep patterns, which is beneficial to your mental health. And of course, swimming encourages your body to release endorphins, which can boost your sense of happiness and well-being.
Improved Aesthetic for Your Backyard
In addition to these health and wellness benefits, adding a swimming pool to your backyard is also a great way to improve the aesthetic of your property. A beautiful swimming pool can truly transform a backyard space, creating an outdoor oasis that you and your loved ones will enjoy all summer long. And with added elements like waterfalls and beautiful sparkling tiles, you can customize your pool to suit your exact needs and lifestyle.
For example, if you like to do a lot of outdoor entertaining, you might consider designing an outdoor pool with a swim-up bar. Elements like fountains and poolside firepits can help take your experience to the next level. With the right pool design specialist, you can really create a swimming pool and surrounding space that lets you live your best life all year round.
Gather with Friends and Family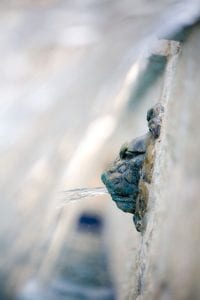 Swimming pools are an excellent way to make your landscaping look more inviting and create the perfect hangout for your friends and family. Your backyard will quickly become the hot destination for summer gatherings, allowing you to build closer relationships with loved ones and create memories that will last a lifetime—all without even having to leave your house! And of course, by adding other elements to your outdoor space such as firepits and outdoor kitchens, you can make the absolute most out of your backyard space.
Add Resale Value to Your Home
Last but not least, adding a pool to your backyard can increase the resale value and potential of your home. If you're thinking about selling your home at some point down the road, having a pool can be a great selling point and may even make it easier to sell your home for your desired price.
Great Way to Avoid the Dallas-Fort Worth Heat
It's no secret that summers here in Texas can be absolutely brutal. While you could join a gym that offers a swimming pool or find other ways to beat the heat, there's just nothing like having your very own swimming pool to enjoy in the convenience and privacy of your own yard. By having your own pool, you can make the most of your summer and continue spending plenty of time outdoors without breaking a sweat. And of course, you'll save money over time by not having to pay for a private pool membership or commute to a local pool.
Looking to Create Your Own Backyard Oasis?
As you can see, there are many benefits to owning a swimming pool. From physical and mental health advantages to improved property aesthetics and the ability to beat the summer heat here in Texas, there's a lot to love about a great swimming pool.
If you're thinking about adding a pool to your property, it's important to find a professional that you can trust to design and install an incredible pool with confidence. At Summerhill Pools, we have many years of experience in helping Texas homeowners like you design, build, and enjoy their new swimming pools.
We also offer outdoor living accessories, ranging from outdoor kitchens and fireplaces to firepits, pool water features, and more. Contact us today to find out more about our pool design services and to schedule your free consultation!
Supporting Resources: