When you first installed your pool, it probably seemed like your perfect dream pool. But as time takes its toll and your needs grow and change, your pool could probably benefit from a few updates, especially if you didn't feel like you got it quite right the first time. Here are 8 signs that it may be time to upgrade your pool to make it feel as new, exciting, and inviting as when you first had it installed.
1. There Is Not Enough Pool Lighting
Not all upgrades are about making your pool fun and exciting again; some upgrades are very necessary to maintain safety around your pool. If it is really hard to see your pool in the dark, it is probably a good idea to upgrade your pool lighting since a pool with low visibility is especially dangerous.
While most pools are built to have some pool lighting, many of them do not have enough to make the most important aspects of the pool visible. Your pool lighting should allow you to see the wall, the edges, the stairs, and the path back to your house. If any of those are poorly lit, it is best to upgrade your pool lighting as soon as possible to keep you and your loved ones safe. Additionally, lighting can always be added around your pool deck and inside of your pool to ensure that you can see properly, too. 
In addition to safety, pool lighting can let you enjoy your pool for longer, allowing you to really get your money's worth. After all, even in the summer, there are a limited number of hours between when you get home from work and when it gets dark. The pool light or two you currently have may not be enough to make the pool feel safe and enticing after dark; if you can't see the pool edge or easily find the path back to the house, you may decide that it's not worth the hassle for a swim. Fortunately, this is something you don't have to live with. Adding some pool lighting to your pool area and deck will allow you to use your pool for longer.
Upgrade Your Pool Lighting to LEDs
Incandescent lights and other types of bulbs can run up your electricity bill. Not to mention, incandescent bulbs get hot overtime which is its own safety concern. In contrast, LED bulbs do not hold heat like incandescent bulbs do which makes them safer to use for outdoor lighting areas. They are also much more energy-efficient, using 75% less energy than incandescent bulbs, while also having a longer lifespan that is quite impressive at 40,000 hours.
2. Your Pool Is Leaking
Pools can develop leaks near the skimmers, pipe valves, drains, jets, and even the light fixtures. While some pool leaks are minor and can be repaired, other larger leaks such as those caused due to structural damage need a complete remodel to fix. Make sure your pool leak isn't major by investing in a pool leak detection test! If you do find you have a major leak, it's not the end of the world. Now you have both a way to lower your water bill and a good reason to remodel your pool to fit your current vision of an ideal pool.
3. Your Pool Has Outdated Equipment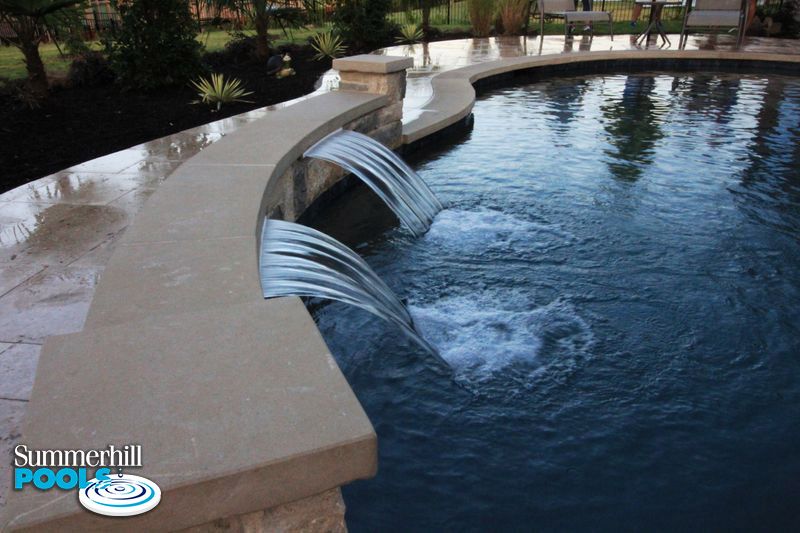 Outdated heaters require more energy to use, while more modern heaters are designed to be more energy efficient and effective at heating your pool. This can save you money in operating costs and keep your pool warmer longer, too. This is also true of other outdated pool equipment, such as the lights and water features.
In addition to being more energy-efficient, these features can also be upgraded to be automated. Automated pool features can be controlled through your cellphone or through a timer, allowing you to control your pool whether you are home or not.
In short, updating your outdated equipment can save you in energy costs in the long run while also allowing you to enjoy new levels of ease and customization.  If you're wondering whether or not your equipment counts as outdated, a good rule of thumb is that if you have a heated pool or hot tub that was installed 10 or more years ago, you likely have an old heater. That said, innovations in technology happen quickly, so it may be worth considering updating your equipment even if you installed it within the last 10 years. 
4. Your Pool Has Damaged Tiles, Decking, or Coping
Damaged or broken pool surfaces are not only unattractive but can also make the pool's surface's feel rough which can then scratch at bathing suits and feet. Additionally, damaged pool tiles and decking can make your pool more prone to leaking and create places for algae to hide.
Resurfacing your swimming pool can be a great way to restore your pool's cosmetics and ensure that your pool isn't suffering from any leaks or major structural damage that would be more costly in the long run. Having pool surfaces that are in good condition is a matter of safety, hygiene, aesthetics, and cost efficiency, so if the surfaces of your pool are worse for wear, it is definitely worth considering upgrading them. 
5. Your Pool Is Missing a "Wow" Factor
You want your pool to be your dream paradise to escape to; the only difference is that it's right in your backyard which makes it even better. Sometimes, though, the pool you thought you wanted just doesn't live up to the expectations that you had in your head. You can upgrade your pool by adding in different features. Adding in water features like waterfalls and fountains can add visual interest, improve water circulation and filtration, and create an atmosphere of luxury and relaxation. Adding in a swim-up bar or a slide can increase the recreational value of your pool, making it a fun place to hang out and play, while adding a spa or tanning shelf can make your pool the perfect spot to unwind and relax.
If simply adding in features doesn't seem like it will be enough, you can also expand the size, depth, or shape of your pool. This can be an especially appealing option for pool builds where there were originally limitations to the design. You could even convert your pool to a saltwater system to really make it stand out and bring the ocean to your backyard.
6. Your Water Filtration System Is Inefficient
An inefficient water filtration system can leave your pool looking like a murky, uninviting swamp rather than a pristine backyard oasis. Newer pool filtration systems are designed to be more energy efficient and increase the health of your water. As such, they are an excellent way to improve the hygiene of your pool while still saving on energy costs. You can also increase the sanitization of your pool by installing automatic salt generators, inline chlorinators, and mineral feeders that can release chlorine into the pool periodically to keep chlorine levels balanced.
7. Your Deck Is Faded or Outdated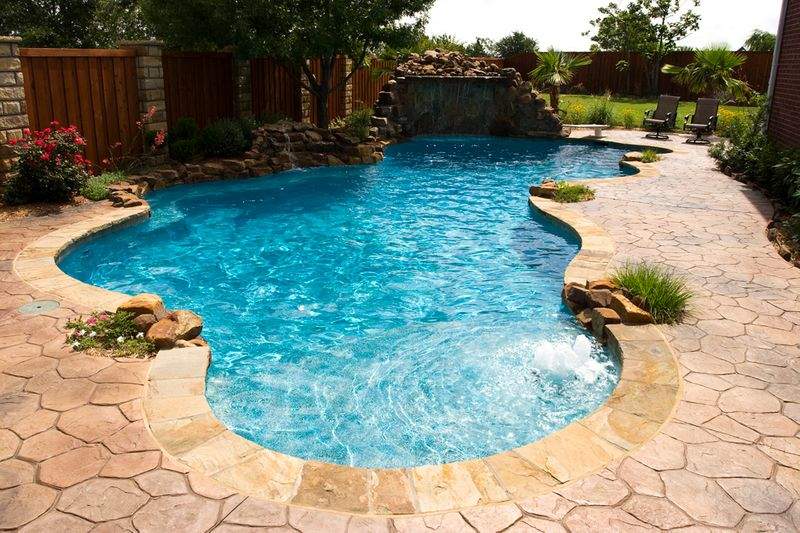 Beautiful pool decks can completely transform your pool space. A bland outdated pool deck can leave you feeling bored, even if the pool itself is absolutely gorgeous. Put another way, the frame should match the beauty of the picture to best show it off. There are many ways to update your pool deck. You can add in colorful plants to add in visual interest while also adding in the calming influences of nature. Alternatively, you could harness manmade technology by adding additional pool lighting to create the perfect pool deck atmosphere. Still another option is to replace concrete with beautiful pavers so that even the floor you walk on adds to the beauty of your backyard and your pool.
8. You Can Take Your Pool to the Next Level
You don't have to wait for a bunch of signs staring you in the face to tell you that it's time to upgrade your pool; having access to the assistance of our skilled and experienced team at Summerhill Pools is reason enough to finally take your pool to the next level and bring your ideal oasis to life. If you do notice signs that it's time to upgrade, that's even more reason to consult our knowledgeable professionals. We'll work with you to bring your dreams to life so that your pool remains perfect for you, no matter how your needs grow and change. Get one step closer to your dream pool; contact us to schedule an appointment or consultation today!
Additional Resources: