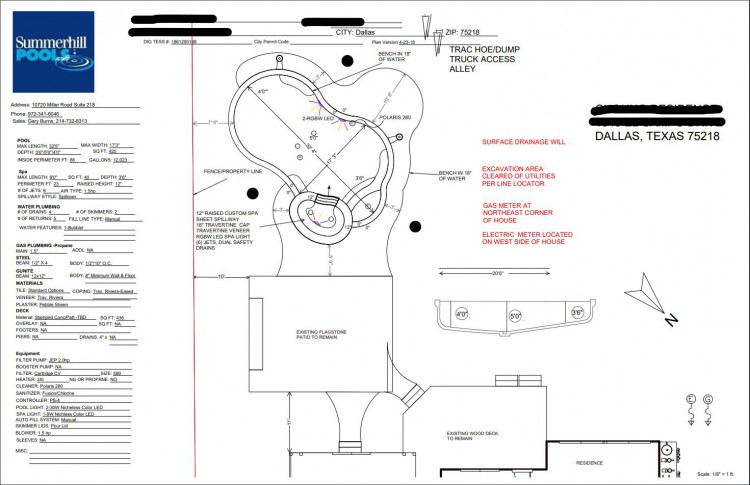 Summerhill Pools is breaking ground on a new freeform swimming pool in Dallas, TX. Right now, we're in the process of taking our detailed pool designs (seen above) from the drawing board to the field. Our expert designer drew up the plans for this beautiful pool-to-be using Pool Studio. The design plan is for a freeform pool with a raised spill-over spa, and it will be finished with other nice features such as:
From the Drawing Board to the Field
As any superintendent will tell you, moving from the drawing board to the field isn't always a straightforward process. Various obstacles present themselves at every job site, and it's the job of Superintendent Dave Jetter to adapt and overcome.
Since our client's home is located along a narrow street with limited access to the backyard, we had trouble getting our bobcat excavator into the yard. Once our field team gained access, they worked to identify the exact location and orientation of the swimming pool.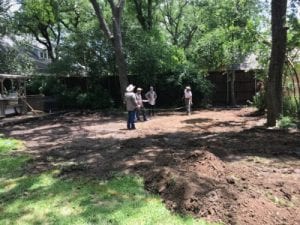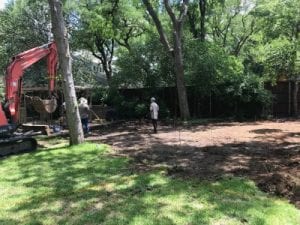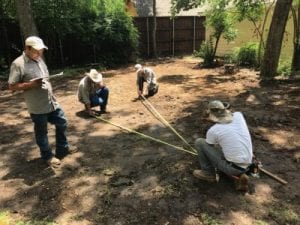 Applying for Permits and Code Compliance
Before we complete the design process, we send a team to the field to collect pre-dig information such as:
Location of gas, sewage, electrical and water lines
Location of fence & property lines
The area we'll have to build in
To make sure that we'll adhere to every law and regulation for the area, we check for the following:
Drainage will ensure proper water removal from rain or flooding
Excavation area is cleared of utility lines
Gas meter is the proper size to handle our JXi Pool Heater
Once this data is collected, we draw up our pool plans and submit the plans to the city. After we obtain a permit, we can begin the excavation process (which is where we are now).
If you happen to stop by any of our construction sites, you'll find a job site that is clean of excess debris, teams that are polite and professional, and a superintendent who is dedicated to excellence. It's the Summerhill method of pool construction and one that we continuously work to instill in all of our job sites. If you're interested in a high-quality pool built by with professionalism and expertise, give Summerhill Pools a call.