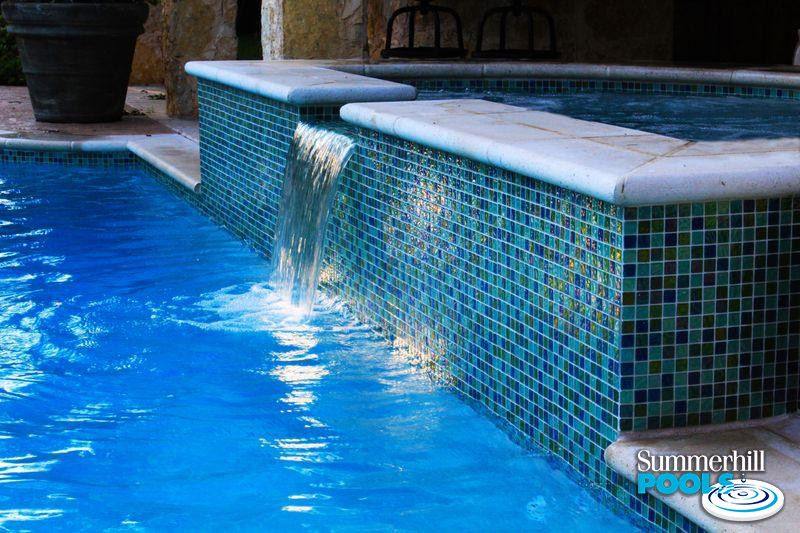 Since 1989 Summerhill Pools has been the leading innovator of pool design! We work hard to deliver high-quality pools that boast of their unique style. No matter your vision, trust that our expert design team has pool solutions that not only meet your needs but surpass your expectations.
Swimming Pool Interactive 3D Studios
To better serve our clients, Summerhill Pools uses 3D Interactive Pool Construction software to show homeowners the pool shape and landscaping, special water features, and lighting.
What Features Are In This Pool Build?
In this sample pool build, we brought out elegance through simplicity. Not every pool needs the bells and whistles to create a unique experience. Some families may want something quiet to enjoy. For this particular pool build, we offer the following features to meet the homeowner's needs:
A Spillover Spa:
Spas create a wonderful place to relax. Parents can watch their children swim in the pool or swimmers can use the spa for a moment of rest after a long swim.
The water spilling over from the spa helps keep the pool comfortably warm and aids in the circulation of water through the pool.
Sun Shelf:
A gorgeous custom-built sun shelf allows swimmers to tan while keeping cool in shallow water. It also serves as a safe space to sit and enjoy a nice conversation. The additional umbrella allows for a shady spot, keeping individuals cool while relaxing.
36" Sheer Waterfall:
A 36" sheer waterfall provides not only an added visual effect but a nice ambiance as the water gently flows into the pool, plus it's a popular feature for children! This helps counteract the hot water from the spa, keeping cool water circulating.
Jump Platform:
A jump platform is perfect for divers as it provides a safe place to dive in without the risk of injury. Here, the pool is deeper and custom-built for diving. This is perfect for both competitive and casual swimmers.
Travertine Tile for Both the Pool and the Decking:
Gorgeous natural ivory travertine covers the pool deck. This natural stone imported from Turkey helps repel heat, keeping the deck cool for swimmers. It is also slip-resistant, making it a popular option for pool owners with younger kids as it helps reduce the risk of slipping accidents.
Ready to Make Your Dream Pool Come to Life?
Create your dream pool in your backyard, and trust that the team at Summerhill Pools will bring it to life! From countless water features to gorgeous pool shapes and styles, we have something for everyone! Contact our team today for more information on our pool construction or to schedule a consultation!
---