The 6 Best Ways to Keep Your Swimming Pool Cold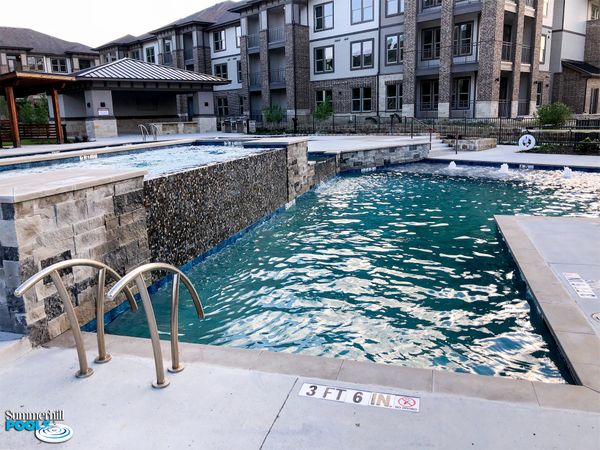 There's nothing quite like diving into a refreshingly cool pool on a hot day. However, sometimes the intense Texas heat manages to make your pool feel more like a lukewarm bathtub than a rejuvenating oasis. After all the time, effort, and money you've put into making your pool the summer escape of your dreams, you might feel cheated. Luckily, all is not lost! Read on to learn about the 6 best ways to put the cool back into your pool.
1. Invest in Mechanical Evaporative Chillers
Mechanical evaporative chillers may sound complicated, but you can think of them as an air conditioning unit for your pool. They work by using fans to cool the water as it travels through the system. If you opt for this system, be advised that it's best to use it at night when the temperatures are already cool. The next day, you'll have an inviting chilled pool ready for use.
In addition to making your pool water cool, mechanical evaporative chillers can help you cut down on pool chemical usage, costing you less money in the long run. Warm water is a breeding ground for bacteria. As a result, it naturally burns through chlorine and other pool sanitizers faster than cold water. An initial investment in cooling your pool isn't just about your comfort or wallet; it's also about your health.
2. Run Your Pool Filter At Night Time
While the effects will be more subtle, running your pool filter at night circulates the surface water that is cooled by the drop in temperature outside. This can lower your pool's water temperature by a couple of degrees, taking the edge off the summer heat and preventing the sensation that you're just jumping into a large hot bath.
3. Add Water Features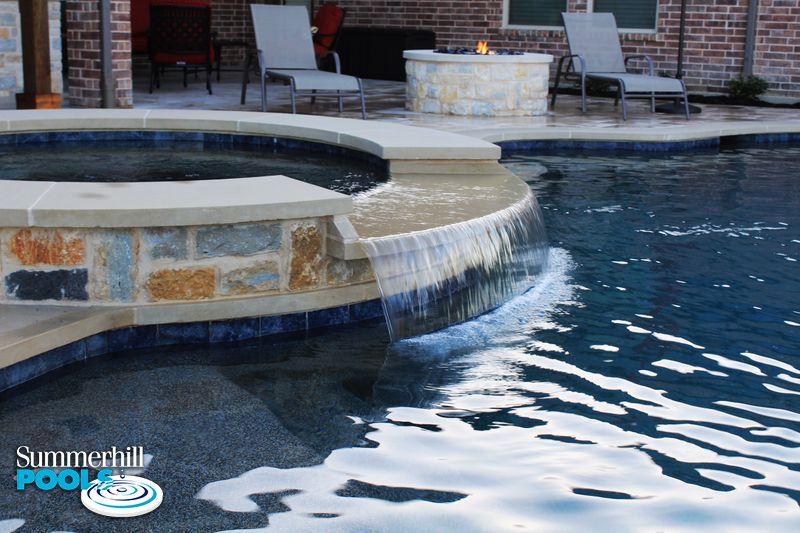 Water features, such as scuppers and fountains, are a great way to add visual flair to your pool while also circulating pool water to keep it cool throughout the day. They are even more effective when left running at night to take advantage of the naturally cooler temperatures, similar to the effects of running your pool filter at night time.
4. Make Sure Your Pool Area Is Under Some Shade
Making sure your pool has some shaded area will not only keep the water temperature lower, but it will also decrease the amount of chlorine lost to UV exposure.The easiest way to create shade over your pool is to install an awning over at least a third of the pool. A poolside awning can also keep poolside guests cool, creating a happy and comfortable environment both in and around your pool.
5. Use A Reversible Heat Pump
Reversible heat pumps are pool heaters that can double as pool air conditioners because of their handy temperature controls. Unlike the fans in mechanical evaporative chillers, reversible heat pumps use refrigerant to cool the pool water on demand. It is important to note that they are fairly expensive compared to some of the other items on this list, so keep that in mind as you weigh which option is best for you.
6. Use a White Pool Cover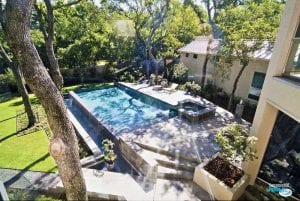 You may have noticed that black-colored things get very hot when left in the sun, especially compared to white-colored things. This is because the color black tends to absorb the most light and heat, while the color white is the most reflective. As a result, a reflective white pool cover can keep your pool's water temperature stable most effectively. It is especially important to use it when you are leaving for an extended period of time (such as a vacation) to keep your pool cool.
Need Pool Maintenance or Need a New Pool Pump?
There's no need to let your pool problems get you heated when you can call Summerhill Pools for your every pool need. Whether you need pool maintenance or a new pool pump, the experts at Summerhill Pools are here to help. We're excited to help you create the backyard oasis of your dreams, so call us today!