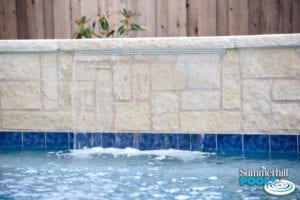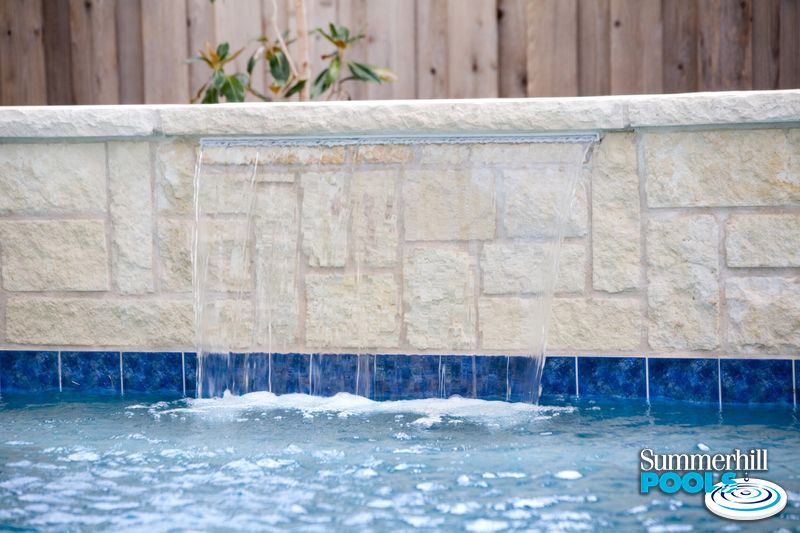 Many people know that they can personalize their pool's shape, materials, and even color but neglect to consider the impact water features can have. Water features can make your pool stand out and add something truly amazing to your personal oasis. Read on to find out what water feature options you have to take your pool to the next level.
Bubblers
Bubblers, also known as gushers, are small jets in a pool's shallow surface that shoot streams of pool water, causing ripples and bubbles to appear on the surface. The heights of the streams are adjustable, allowing you to create a soothing and relaxing atmosphere, a high energy scene, or whatever fits your mood at any given time. These are particularly beautiful when illuminated by light during the nighttime.
Spillways
Spillways create the soothing sound of gentle running water. They are little holes or cut-outs that are placed near dividing walls for different pool sections, such as between a pool and the spa, so they can also be used to move pool water from one place to another.
Waterfall
Waterfalls are a gorgeous addition to any pool that gives the area a more natural or tropical feel. They are usually created with boulders or rocks to give a more naturalistic ambiance.
Fountain
A fountain with a spillway into the pool is becoming a more and more popular pool feature due to the capacity for personalization; you get to decide the style and size of the fountain, which makes for endless possibilities. This also helps tie your pool into your greater landscaping to create a more cohesive effect overall.
Sheer Curtain
A sheer curtain creates a wide curtain of water that drops straight down into the pool. This feature is effective to delineate particular areas of the pool, such as swim-out spaces and ledges.
Scuppers
Scuppers are spouts that are connected to a pedestal or wall. Depending on the type you invest in, they can cause water to flow in different styles: sheet, trough, or chute.
Spouts
Spouts are mainly used for the sound of flowing water, but they can also be used to help keep the flow moving in the pool. Making sure the water is circulating and not constantly taking in heat at the same places can help with keeping the temperature down throughout the entire pool.
Summerhill Pools Can Help You Create Your Dream Pool
It may be difficult to visualize how all these options could enhance your pool, especially if this is the first you're hearing of them, but our team of skilled experts can help! We can help you figure out how to add water features to your existing pool or how to add them to your plans for installing a new pool right from the get-go. We're eager to help you fulfill whatever dreams you have for your pool, so make sure to call Summerhill Pools today!