There are plenty of things to decide before breaking ground for your pool. Before you even get close to moving a single pile of dirt, you need to decide on placement, style, materials, builders, and more. However, the work doesn't stop after making those design choices. You may also need to consider local ordinances, utility lines, and other factors you may not have even considered yet. There's no need to worry, though. Our experienced Summerhill Pools team has put together this guide of what you should know before breaking ground for your new pool build.
Check With Your City or County for Their Zoning Laws
Checking with your county or city zoning laws is an extremely important step as some areas have strict regulations in place that can be a headache if not taken into account. For example, some jurisdictions may have rules as to the placement and size of the pool for the size of property you have.
Safety regulations are also important to note, as some areas also require a safety fence or other barrier to be placed around the pool in accordance with the Attractive Nuisance Doctrine. This doctrine holds property owners liable for accidents concerning children who are drawn to the property due to enticing elements, such as a pool, where they can get hurt without proper supervision.
Avoid Damage to Utility Lines
Texas 811 can help you locate your cable (if applicable), electricity, and telephone lines. If any of these lines need to be rerouted, contact your service provider; they will let you know if an aerial cable is available for you. If aerial cables are not an option, you will need to contact a licensed electrician to help you reroute the lines. Similarly, gas lines, sewer lines, and plumbing will need to be rerouted by an experienced and licensed plumber. Sprinkler systems can be rerouted using a licensed irrigation company. Never try to reroute these lines by yourself or through just your pool builder.
Apply for the Construction Permits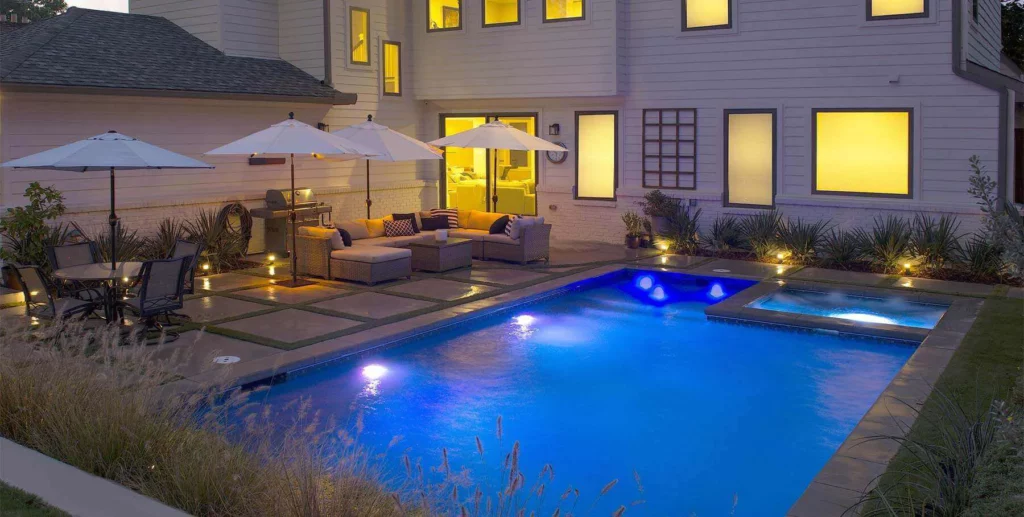 After the utilities have been adjusted, you will need to apply for construction permits. An extra application will need to be submitted to the HOA if you live in an area with an HOA. In general, most HOAs want a blueprint of the pool design before you break ground on your pool. Next, you will need to acquire a city permit which can take between 1-4 weeks to arrive. Some pool contractors will be able to help you with this process, so if that's something you would like, make sure to ask before choosing a pool contractor.
Make Sure You Hire the Right Contractor
Hiring the right pool builder is essential for not only building the pool of your dreams, but also ensuring that everything is up to code. Always check to see if the pool contractor has the proper licensing and background to be working on your pool. You need to know that the have the proper training and experience to handle every aspect of your pool construction project, especially the legal and safety requirements. You can always check the Texas Department of Licensing and Regulation to see if your contractor's information is accurate
Part of making sure you hire the right contractor is making sure to explore your options. It is always advisable to get at least a few bids on your pool project so that you can get a good perspective as to the different characteristics and plans of the pool contractors you could work with. This allows you to gauge who you would be most comfortable working with and who best meets your needs.
After choosing a contractor, make sure you get a written contract before allowing the contractor to start work on your pool. This contract should outline all of the terms including payment schedule. While the amount of fine print may seem daunting, make sure to review the whole contract before you sign it to ensure that you know exactly what you are getting and what you are agreeing to.
Prepare for Extra Costs In Building a Swimming Pool
When building a swimming pool, there may be other additional costs that you will need to take into consideration such as maintenance costs, landscape accommodations, and other necessary additional items. When saving up for a pool, it is easy to feel like all you need to worry about is the initial construction cost, but it is essential to plan for the additional maintenance costs. Otherwise, you'll have a shiny new pool that won't stay shiny or new for long because it is not properly maintained.
Similarly, you never know what issues may arise after you start building. After beginning construction, you might find that you also need to install a retaining wall or fence. Alternatively, you might find that your landscape needs to be reworked to accommodate your new pool. It's best to have some cushion in your budget to be able to handle these issues should they arise. Otherwise, you might have to pause construction and be left with a half-finished pool and a completely unusable outdoor space.
Choosing the Right Pool Materials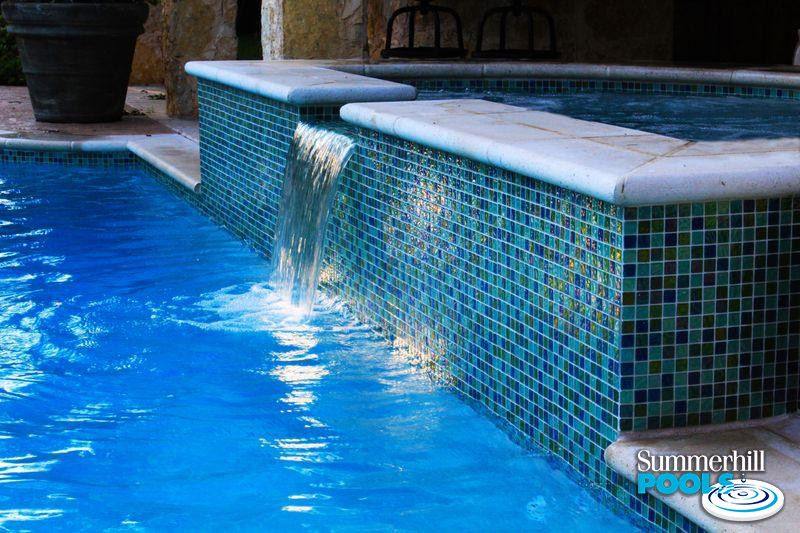 There are three main different types of materials that can be made out of: fiberglass, concrete, and vinyl. Each option has its own advantages and disadvantages. Knowing the strengths and weaknesses of each will allow you to select the one that's best for your purposes.
The main drawbacks of fiberglass are that it is not as durable and also limits your design options, but it is less expensive than concrete. Vinyl is even cheaper and also smoother than concrete, but it is also not very durable and is highly susceptible to algae growth. Because of this, vinyl pools typically require extra maintenance to maintain the health of the pool and the water in it.
In general, concrete is the best pool material. It is very customizable in terms of aesthetic, size, and shape. Additionally, the material lasts for a very long time and is extremely durable. Given these advantages, it is understandably more expensive than the other options, but the initial higher investment could pay off in lower maintenance and replacement costs in the long run. The choices don't end there, though. There are even different types of concrete. Our team typically recommends shotcrete concrete over gunite concrete because shotcrete concrete pools are incredibly resistant to cracks and other damage.
Understanding the Timeline
As you start the process of building your pool, you might be wondering: how long until your pool is ready? There is no set answer because the length of time to build a pool depends on a number of factors, including how long it takes to reroute utility lines, get permit applications, design the project, and let the concrete set. The weather can affect all of those steps while also affecting the process overall; as you might expect, inclement weather will slow down the project. Make sure you hire a pool contractor that is familiar with how long all of these things typically take so that they can come up with the most efficient plan for constructing your pool. All of these considerations add up, but our builders will give you an overview of what the timeline looks like and keep you updated throughout the process!
Build Your Dream Pool Today!
Considering how many steps and considerations go into building your dream pool, there is no time to waste. Summerhill Pools is committed to using their skills and experience to help you bring your vision of your ideal pool to life so that you can thoroughly enjoy it as soon as possible. We'll work with you to make sure that every choice you make brings you closer to the perfect pool for you, and we'll make sure that you know exactly what to expect before even a single bit of dirt is moved. To schedule a consultation or appointment, make sure to contact us today!
Additional Resources: