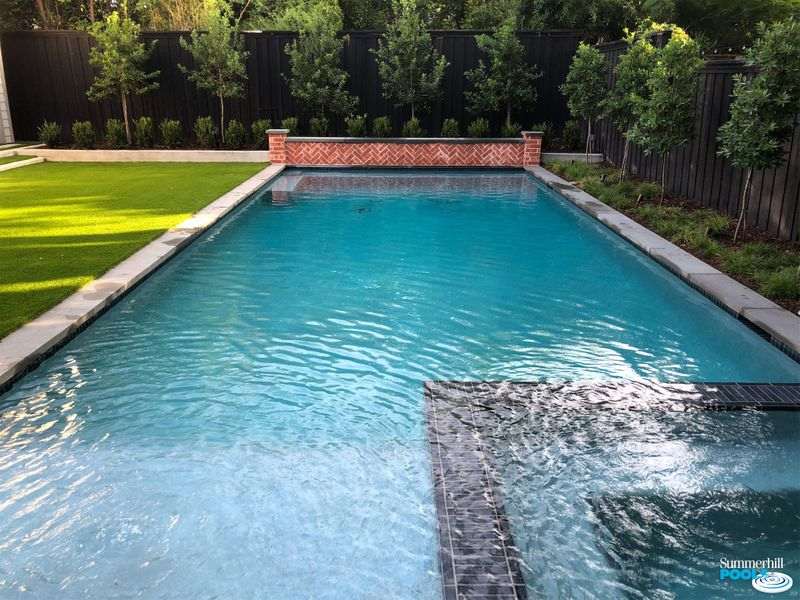 Rectangle pools are the most common pool shapes because of their simplicity, functionality, and adaptability that allows them to suit any size or style of backyard. Some homeowners may find their classic appeal lackluster and want to enhance the character and style of their rectangular backyard pool. These ideas can help do exactly that.
Bask in the Sunlight with a Tanning Ledge or Sun Shelf
A tanning ledge, also known as a sun shelf or Baja shelf, adds functionality and style to your backyard pool. As the name implies, it creates a space for tanners to soak up rays while still enjoying the cool water. It also creates a safe, shallow area that works well as a social space or child-safe splash zone. There are even lounge chairs with dipped middles to allow occupants to be partially submerged in the water designed specifically for use in sun shelfs. Plus, thoughtfully designed sun shelfs can serve as a stunning focal point for your rectangular pool, adding structural style.
A sun shelf can soften up the harsh edges of a rectangle pool or add to its geometric shape. Using accent tiles can help the ledge stand out in the pool. Bubbler fountains can also be incorporated into the tanning shelf, resulting in pleasant bubbles for those lounging or playing in the area, adding a soothing sound feature to the area, and enhancing the appearance of the pool itself.
Don't Underestimate Floating Steps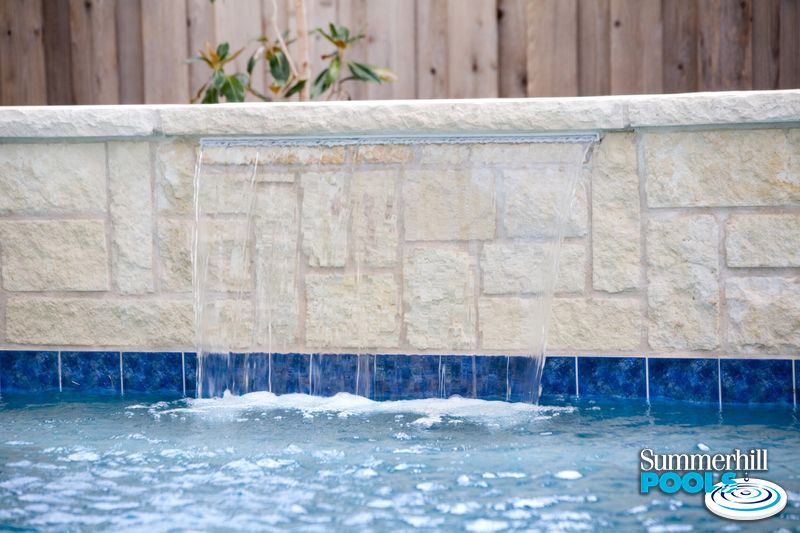 Floating steps are a simple yet stunning way to add pizzazz to your rectangle pool. These simple steps appear to hover in or just above the water, creating the impression that those who use them are walking on water! These boldly designed steps can move people from one part of the pool to another, bridging the space between areas or taking people or across the pool for faster access to a hot tub. They can also serve as seating next to a poolside bar or spa. Floating steps will divide the space within a pool, creating visual interest in a contemporary style. For example, you might use them to separate the space between the shallow water suitable for children and a deeper area safe for diving.
Floating steps can transform an uninspired rectangular pool into a focal point of your backyard space while improving its functionality. Check out this stunning rectangle pool that incorporates floating steps and raised accent walls to divide space and create visual interest at Better Homes & Gardens.
Catch Your Guests' Eyes With Deck Jets
Deck jets are another dual-purpose element that enhances style and improves the functional use of your backyard pool. These jets shoot beams of water that curve elegantly back into your pool. Lighting can also be added to make your deck jets truly memorable. The motion of the jets pouring into the pool promotes water circulation, which helps keep the water cooler. They work well for a number of design styles, whether you are going for a contemporary vibe or aiming for a more whimsical backyard. Plus, like other moving water features such as waterfalls and bubbler fountains, they provide a soothing sound that helps your backyard transform into a restful, restorative retreat.
Raised Accent Walls
Southern Living showcases how a simple raised wall can add significant eye-catching appeal to your backyard rectangle pool with this simple pool design. By incorporating scuppers into the raised wall and adding a planter on top, they create an elegant and memorable backyard oasis. You can easily add features to your pool like the ones showcased in Southern Living, such as scuppers, wall sconces, or a cascading waterfall to provide a romantic, sophisticated vibe to your space. Walls can feature stone, decorative tile, or marble to create a luxurious feel to your pool. Accent statues can emulate a Victorian garden or Greek palace. Fire bowls can create a tropical feel, particularly when you include lush planters in the landscaping. They can also separate functional spaces such as shallows, spa areas, or poolside hospitality stations.
Don't Settle for Boring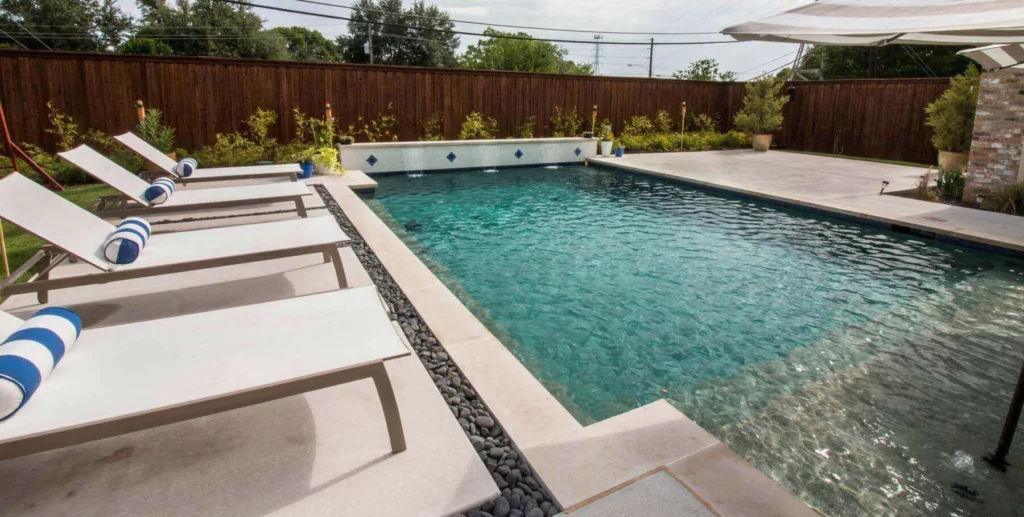 Even a simple rectangle pool can become a gorgeous centerpiece of unique style in your backyard with thoughtful design and clever features. If you are ready to make the most out of your backyard escape, whether you want to build a new pool, remodel an existing one, or update your backyard with enhanced features, our expert designers and builders are ready to walk you through the process and answer all your questions. With over twenty years of experience, we are ready and excited to bring your backyard dreams to life. Contact Summerhill Pools today for a free pool estimate and get ready to make your next summer the best one yet!
Additional Resources: