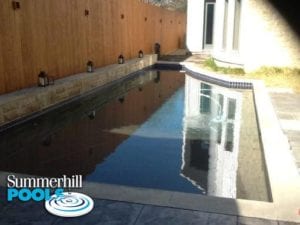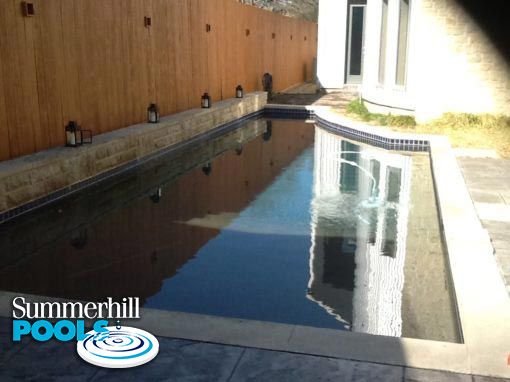 It is easy to dismiss building a pool for your home because you think your backyard is too small. However, a pool construction specialist can tell you that it isn't about the size of your backyard but how you utilize that space. If you want to invest in a pool for your backyard but are hesitant because of a lack of space, this article is for you! Here is how you can make the most of your small backyard:
Don't Fight Your Space
Everyone dreams of what their ideal backyard will look like, but often the reality of what they have to work with it interferes with making that dream come true. Try to force an idealized design into an incompatible space is like trying to fit a square block into a round hole. It doesn't work. Stepping back and analyzing the contours of your backyard can help you design a pool that fits your space, adheres to your specific needs, and surpasses your expectations. A smart pool contractor, like our team at Summerhill Pools, can help you make the most out of your property's shape and size to deliver you a pool that is better than anything you could have dreamt up on your own.
We take note of how much space needs to be between your home and your pool. This ensures that you have sufficient space to give your swimmers a safe entry point into the pool, put out some patio furniture to relax on, and move around your backyard without falling into the pool.
A smart way to save on space is to press as close as you can to the back end of your pool against your property line. Doing this maximizes the space available to create a beautiful pool deck and leaves room for special features, such as a small outdoor living space.
By keeping in mind where the pool is going to be placed and how much space is needed between the pool and other features of your home, you can begin to see the shape of your pool. Oftentimes, this shape will mimic the outline of the back of your home as it meets your backyard.
Using Raised Walls
Raised walls can serve several purposes for your new pool. The wall can hold back soil, which is especially useful if your backyard has a natural hill or slope to it. This raised wall can also act as a nice place to add some additional water features, such as scuppers, to add an extra layer of visual appeal. With some gorgeous tiles or even natural stone, your pool will have a one-of-a-kind look that ties the whole piece together.
Wondering what other types of water features you can add to your raised wall? Here are some of the personal favorites at Summerhill Pools:
Stone waterfalls
Shelves inside of the wall that house multiple fountains
Bubbler fountains (especially useful if your pool has a tanning ledge near the raised wall)
Cascade-style water features
No matter what type of water features you decide to add to your raised wall, they all promote the healthy circulation of your pool's water. This helps keep the water cooler while maintaining a nice aesthetic appeal and calming atmosphere that we all expect from our pool experience.
Make Your Pool's Steps Serve a Double Purpose
Thinking outside of the box is key to building a pool to fit your smaller backyard. By expanding the dimensions of your pool's steps, you can create a perfect tanning ledge without sacrificing much swimming space. With extended steps, you can easily bask in the sun or use the space to make a small pool for little ones.
Place The Spa Inside of Your Pool
A lot of pool owners enjoy the idea of having a spa along with their pool. This allows the adults to enjoy the comfort of the warm water while being able to keep an eye on their kids as they play in the deeper sections. By placing the spa within the pool, not only are you saving space, but you are also allowing the water from the spa to seep into the pool, keeping the water a bit warmer and more comfortable for your swimmers.
The Possibilities Are Endless With Summerhill Pools
While these are some of our favorite small space pool building tips, there are many more cool tricks of the trade that may be perfect for making the most of your space. When you invest in a new pool by Summerhill Pools, you are working with a team that doesn't have the word "can't" in their vocabulary. We work hard to ensure that you are getting the pool of your dreams and using your outdoor space efficiently. Ready to start your new pool project? Contact our team today for more information on our services or to schedule a consultation with our design team!