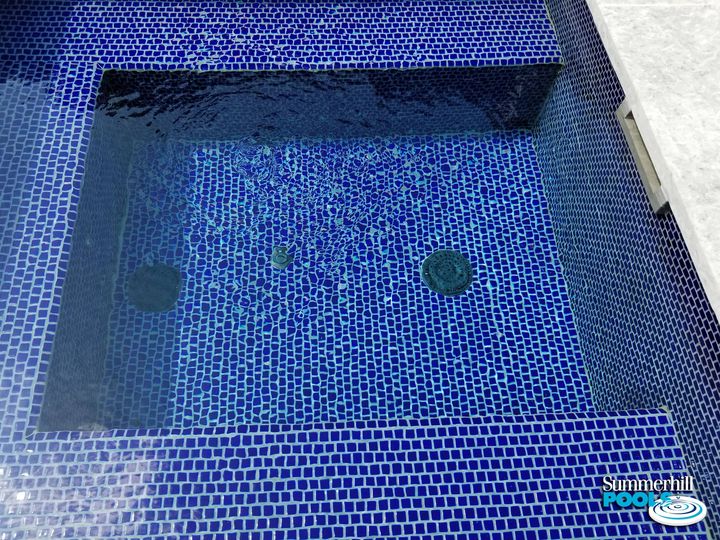 Pool tiles look attractive, but they also have other benefits, such as protecting the pool's shell or liner. Pool tile is specially made for pool use and is different from other types of tile. In this blog post, Summerhill Pools explores the purposes served by pool tiles and how they can benefit your pool. When installing or repairing pool tile, it is best to hire professionals.
For safety, it is important to have slip-resistant, non-toxic tile. By working with a knowledgeable pool professional, you can choose a safe tile for your pool.
Purposes of Pool Tile
As mentioned above, pool tiles don't just increase your pool's aesthetic—they also help protect it. Outdoor pools are subjected to the elements, pool chemicals, changing temperatures, the sun, and the constant effects of water. Because of this, pool tile needs to be durable. 
Pool Tile Safety
When selecting a pool tile, make sure that it is not made of harmful materials. It also needs to be slip resistant to prevent accidents. Consult with a reputable pool professional to determine the best tile to fit your needs.
Pool Tile Placement
Pool tile can be placed along the waterline and past it to cover the bottom of the pool. These are all the ways you can place pool tile:
Waterline Pool Tile
Pool tile placed at the waterline helps prevent a yellow ring caused by body oil, sunscreen, and other things from forming around your pool's perimeter.
If buildup does accumulate on the pool's waterline, removing it from the tile will be easier than from pool plaster. Waterline tiles can also protect against erosion and prevent the pool liner or shell from cracking. A common positioning of waterline pool tile is three inches above the water and three inches below it.
Waterline pool tiles also add a stylish touch to your pool. One of the great things about pool tile is just how many options for colors and materials are available.
Inlaid Pool Tile
Pool tile can also be used in places besides the waterline. Inlaid tile goes underwater and is recessed into the mold of the pool. By covering more of your pool's plaster in tile, you can better protect it. Remember, the tile on the floor of the pool should be comfortable and safe to walk on.
What Are Pool Tiles Made Of?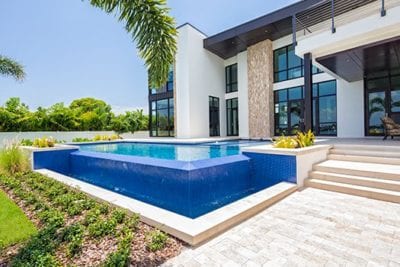 Pool tiles can be made of several different types of materials, each with their own strengths, weaknesses, and price points. It is important to note that prices can fluctuate. By consulting with a reputable pool construction company, you can determine the best type of material for your situation. Regardless of what type of pool tile you go with, it is important to get one that has a non-slip surface.
Some common types of materials for pool tiles include:
Porcelain Tile
Porcelain tile is a popular choice and offers many advantages. It can be long-lasting while retaining its attractive looks. Porcelain tile is durable and resistant to stains and scratches. As porcelain is non-porous, it will not accumulate efflorescence, which is common on stone.
Please note: Installing porcelain tiles is labor intensive, which can lead to an increased cost.
Glass Tile
Glass tile is an attractive yet expensive option for your pool. While the initial cost is expensive, it is long-lasting, has lower maintenance than other types of tiles, and is durable. Due to the higher cost, some pool owners pair it with other types of finishes or tiles. Make sure to get slip-resistant glass tile.
Stone Tile
Stone tile provides your pool with an organic look. Stone tile is more prone to scratches and stains than other types of tiles. As stone is porous, it will need to be sealed to prevent moisture from entering it—particularly when temperatures are freezing. As with all types of tile, be sure to get slip-resistant stone tile.
Stone-Look Tile
If you love the look of stone but are concerned about the upkeep, you might consider stone-look tile. Unlike natural stone, stone-look tile is less porous, making it easier to maintain.
Pebble Tile
Pebble tiles are made of small stones and come in a variety of sizes and colors. This tends to be an expensive option. Smaller pebbles will have a more comfortable foot feel, whereas larger pebbles can feel rough. It's a good idea to consult with a pool expert when considering this option to get the best one for your needs.
Adding Pool Tile to Your Pool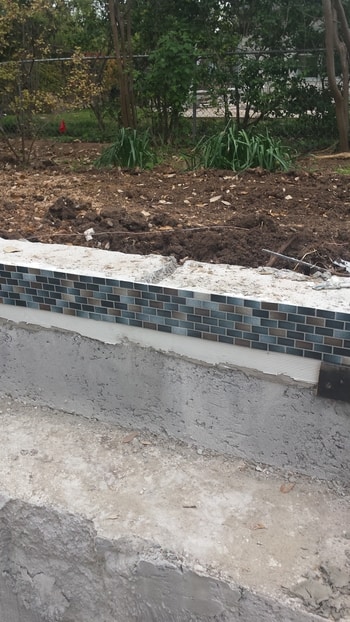 You can add pool tile during the initial construction of your pool or later on. However, it is harder to install the tile on an existing pool, and it might not look as good. Be advised that no matter which direction you go, it can take a day or two of work to install the tile. Also, it is crucial to have your pool tile installed by a trained professional.
Pool Construction and Remodeling in Dallas, Texas
If you are looking to incorporate pool tiles into a new pool or you want tile added to one already constructed, there's a good chance we can help. With our experience, we can work with you to select the right tile for your needs. Since 1989, Summerhill Pools has been helping homeowners and businesses make summers extra fun. We are proud to maintain an A+ rating with the Better Business Bureau. Our team looks forward to working with you, whether you need a new pool or a pool renovation. 
If you're in the Dallas, Texas, area, we can put our skills to work to make your pool experience incredible.